From: "celticmoondance" <celticmoondance@y...>
Date: Mon Jun 24, 2002 7:45 pm
Subject: Re: FOR NOBY:


I had to get off the line earlier. I attempt to get on and off quickly. I often leave the computer on and come back and check for messages and so forth.

I will elucidate. The Flinders are in South Australia. My point is that I have earned my 'wings' so to speak. The dark rider nut is one of those Australians who dresses up like The Man From Snowy River ('Drizabone' riding coat [[Drizabone is probably a European oilskin equivalent]], boots, hat, etc). They shop at places like RM Williams, a well known middleclass store (absorbed into the establishment now) which was started by a beautiful SA guy of the same name whose merchandise was of excellent quality.

You could mail order his hand made riding boots, shirts, moleskin trousers, stock whips!, belts and buckles etc etc when you couldn't get into town. The people of the 'establishment' only want to look rugged but are clueless with regard to real bush survival skills. I've worked on sheep, cattle and crop stations. I've cooked for teams of shearers, mustered sheep with my beloved kelpie dogs etc etc. A jackeroo (jilleroos - females are becoming more acceptable) was a trainee manager.

It wasn't just the men who pioneered this country, it was the women too. Henry Lawson (short stories and poems) will endure for longer than Banjo Patterson of The Man From Snowy River fame. Henry Lawson appreciated the women's role and memorialised them in his writing.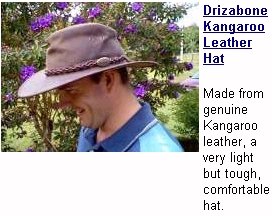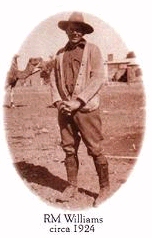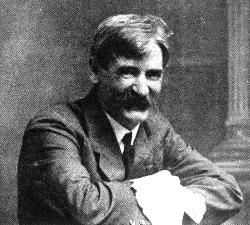 Henry Lawson
There is so much to relate, I will keep it brief. The pastoral/other country I worked in was the real Australian bush and not the soft country, say around Fremantle/Perth cities of WA. When I said the real men were a dying breed, this is true. They are mostly dead now or will be shortly. These men, like myself, really did camp out and rode their horses over a vast expanse of territory, checking and moving stock. They had to be self sufficient (key words). These posers like OshoWA guy just don't have the same calibre (or caliber - US spelling). They want the respect for something that they haven't
earned. I have also been a modern day pioneer with the kerosene fridges, wood stoves, two-way radio, electrical generators for power, school of the air (home schooling), and so on; but this life does not come even close to the real bushies. Nowadays, technology, eases their path (planes, utes, tractors, proximity to towns, the pub, cartons of milk instead of milking a cow ....).

In the real bush, you are respected for who you are and what practical skills you can contribute. I've seen so many modern failed farming ventures and that is a tragedy because it is a lifestyle. Yes, I've lived in total isolation and had to kill one hundred or more tiger snakes like one of Henry Lawson's protagonists. The snakes can lunge at you with their muscle power. I startled one and it jumped up to my waist (no kidding). You can't touch the venom after you've killed one. Don't get me wrong, I'm not built like an amazon <smile>, I'm fairly petite.

I'll debunk some of the myths. Convicts often chose this itinerant life for obvious reasons. Their wives were not always treated well and a lot of women died in childbirth. The Flying Doctor service wasn't available in colonial times! They have a reputation for not talking about their feelings (she'll be right!).

The real men don't write about 'billies' (tin can for boiling water, for example, for tea). This is wanting to convey a rugged and strong man when he is in fact a wimp.

I have a son whose father carved out an empire in the bush and remains there. My son loves the country but his intellect pulls him in the another direction. I won't broach this subject again.

See ya, Noby