II. Bohemian Villages / B÷hmische D÷rfer
---
The dark Bavarian forest inspired the last sad sorry of heresy and non-understanding. This story written at Camping-Heiner is dedicated to our friend Heiner, Master of Math and Mountains.

The next story is inspired by ôBohemian villagesö (B÷hmische D÷rfer). This expression is in our German language a synonym for non-understanding, quite easy again to prove this simple truth of mine ľ thanks for your patience and compassion. Erhard, aka n0by, Sunday morning 06-07 at Camp Stata Papirna.



Camping-Heiner in the Bavarian Forest
in the village "Rain-Hut"
---
| | |
| --- | --- |
| Czech: Small streets with potholes through a green country | open a view on a different world. |
---


There seem nobody working in this old factory,
because on the left chimey a stork breeds in a net.




It is peaceful and quiet in this little
Bohemian villages Horazdovice as long this
old bike with short exhaust
doesn't drive.
---


Podolsky Most and the river Vltava with a memorial:

"Here we we got to wait long two weeks
for the Russians to show up ...." 6th May 1945


In BechynÚ warns
this sign.


BechynÚ should have one of
the oldest Czech
Thermal Bathes,
but this bath is
more reserved
for sick people,
says the lady from
the Tourist Office.
---
| | |
| --- | --- |
| Bechyne, Saturday 0606, 5.10 p.m. | First look over BechynÚ from the church tower |
---


BechynÚ, Bohemian village in the green country


Mima's first car: Ford Transit



1978: My first car Citroen 2CV.



Skoda - seen in Bechyne 0606-2009
---
| | |
| --- | --- |
| Street in BechnÚ Saturday afternoon | Bechyne, once the Synagoge - now a museum |
---


Travelling is like cinema in more than three dimension



This tiny road to Camping Na Papirne
near Dobronice gives space for one car only.



In this Autocamp next to the river
birds are singing and the nights
are still dark.
---
| | |
| --- | --- |
| Sea Cow at AutoCamp Paprina Sunday 0607, 6.30 a.m. | Protect your possessions! |
---
| | |
| --- | --- |
| This young man goes for a pee in front of my motor home. | This couple brings their boat on the shore to Camp Stara Papirna. |
---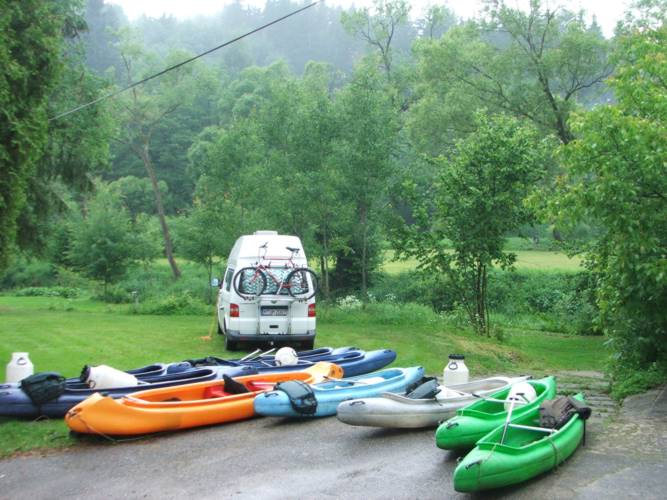 no way out: in front the river, in the back these boats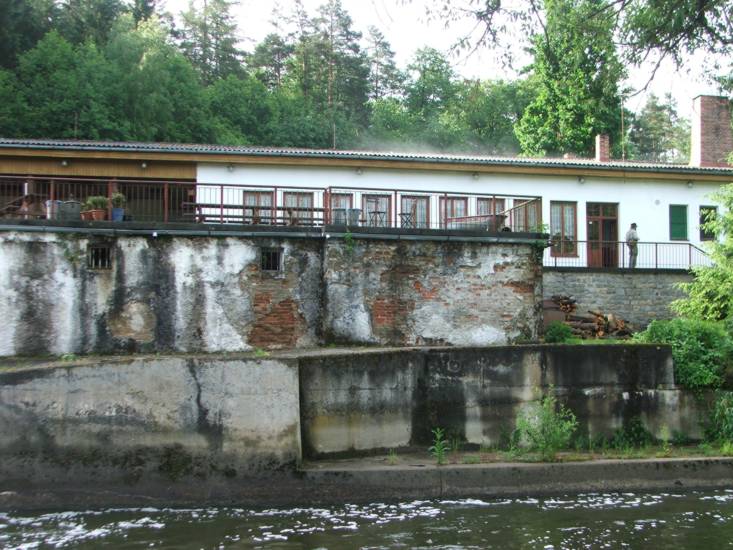 Camp Stara Papirna in the first Sunday morning sun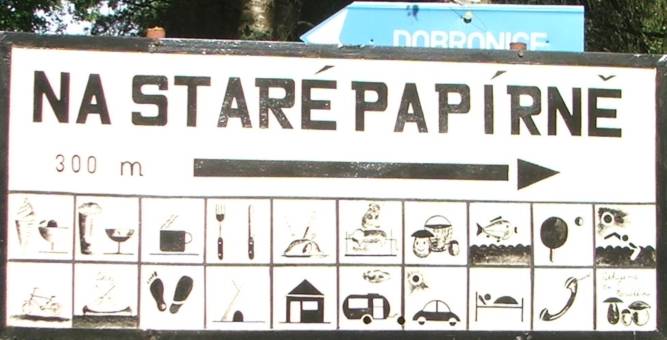 Now a way home to the next Bohemian village: Dobronice
---