Not let's switch from the Bavarian Forest to the Tibetean Heigths, ok? The Dalai Lama provides us daily from our kitchen diary with one of his wonderful wise sentences. One of those wise words molest my mind deep inside all the time: "Nirvana is a quality of our spirit."

This sentences hurts, because one fact is for sure: My spirit, mind, consciousness – whatever works inside to write, to speak, to think, to listen, to travel – my spirit, mind, consciousness has NOT at all this quality. On the contrary: this spirit, mind, consciousness of mine is in a deep disaster, mixed up most the time. One method to release this sickness inside are words in a line, words after words, words building sentences, sentences filling pages, pages filling an online diary like a digital purification plant.

Another method to unburden my mind, spirit, consciousness from this twisted pain of arguing are bodily exercises, travelling all alone like this week end in the Bavarian forests, a wilderness cultivated since the times of the Ancient Romans for more than 1000 years.

The body needs exercises to calm down this mad mind machine. The tension for muscles is much easier to stand than the tension of mind. It feels like these fires of exercises melt the sandy mind sand inside towards more crystal clear consciousness. The Bavarian town Zwiesel if famous for glas- and crystal production.

---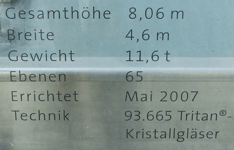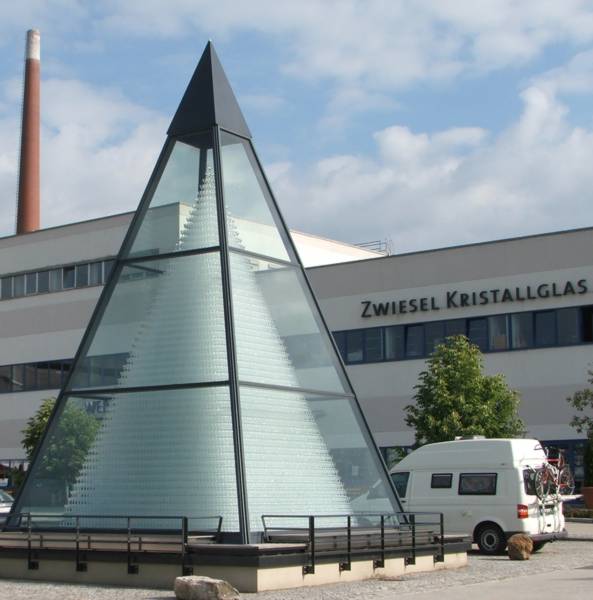 This pyramide is build from
93.665 Tritan Crystal glasses,
8,06 meters high with a weight
of 11,600 Kilogramms;
Mima's "Sea Cow" by the side
is only 2,65 meters high with
a weight of 2800 Kilogramms only.