Tuesday evening Esther gave me her last shopping list in her 30 years short life:

- Mango Juice
- Liquorice
- Lychees
- Fruit sweets without sugar: 'Fruechtli' and
- The Tibetan Book of Death

'Is this too much?'

she asked with her very soft and tender voice closed to death,

'Is this too much? I don't want to stress you.'

She made me laugh and provoked once again my nastiness:

'Now you have stressed me 30 years, the rest I will stand, you can be sure.'

'But I don't want to stress you'

she nearly whispered back and made me immediately regret my harsh statement.

Friday morning in Nuremberg three shops provided all her five last, little wishes. Bringing and giving her these little treasures she was so excited and thankfully repeated again and again:

'I have so lovely parents, I have so lovely parents. I am so happy with you.'

Her mother immediately interfered:

'But I already have an edition of the Tibetan Book of Death. This edition from Diderich is well known. Doesn't this fit your needs? Can he not bring back this one?''

'Sure',

Replied my daughter softly, who had no other needs in that moment but to eat 'Fruechtli' and next salty liquorice. These 'Fruechtli' are a memory of her very early childhood, when her mother and I still worked together the first four, five years to bring her on her handicapped feet and teach her walking.

Her wish from the evening for my readings out of this Bible size new 'Tibetan Book of Death' was lost, the small paperback edition together with the energy from her mother has somehow spoiled this precious moment.

The brother of her mother has arrived too. So I gave him my place by the side of my dieing daughter to bring back the Tibetan Book of Death and took the last shopping order from her mother

'Flesh of a lamb for our soup, that we can stay better grounded...'

Snow made the streets slippery. There was not much traffic in Nuremberg. With some food in a fish restaurant I once remembered with my daughter, my tense nerves found some peace to relax. The way by car brought me by the side of the street, where she has moved in the house of her husband, called after the poet Goethe.

There were two voices like mostly inside: One voice was calling to drive back to my daughter, the other voice was to sleep a bit in the house of her man. I sleep in her bed with her blanket and with the pet donkey; I have bought her more than 25 years before. In a touching phone call to my woman Mima in Munich, I confessed:

'In this hard time for Esther and us I really try my best to behave in my most human way. Afterwards we can continue our dog and cat fight like always.'

As matter of facts it was more the fight of a cat with a mouse. My senses stressed with her mother: my side is the part of the mouse! That lesson existence wanted me to teach about female force.

After maybe half an hour her mother gave me a phone call to come. Few minutes later I arrived at her mother's home, where my daughter has moved in last Saturday in intolerable pain.

Now six days and night later under the devotional cure of her mother and of her Islamic praying friend Esther has lost consciousness and was finishing her last breath.

Her mother has sent her husband for a doctor, who had not answered her calls. But a minute after my arrival her husband came back without doctor. So he took Esther in his arms and helped her very last breath. Esther died at 4.00 p.m.

Short time later her husband closed her eyes . The little lady looked utterly peaceful and relaxed. Her mother could not to stop to repeat:

'The death on Friday will bring you directly to paradise, which emphasises the Sheikh always.'

The Sheikh is their teacher. The other Islamic praying woman was greeting the sun just after Esther has finished her last breath with such sermons:

'Look! Look there: all the angels are around. Isn't it wonderful?'

'For sure,'

Esther's mother was ready to admit,

'Esther had said that she has the happiest parents.'

My ears listened to something else, but there is no way to argue with these women - not now, nor ever.

Looking at her with my deep breathing there was such strong imagination, that her breath was still corresponding with mine. But these illusions left me soon. Standing at her head her mother came by my side. But no mood and room came up for her heartily hug. That would have felt like a theatrical demonstration for her Islamic friend, brother and Esther's husband.

We were sitting silently nearly two hours until my question dared to disturb her husband:

'Shall we leave?'

He agreed. Thankfully a shake hand connection happened to her Esther's mother Islamic praying friend. Both women had cared in the most wonderful and devotional way the last six days and nights for my dying daughter.

'You will leave so early?'

The woman asked astonished,

'But she is still here ...'

'She is for ever here in my heart'

And my hand touched my heart. She gave back the same gesture and Esther's husband and I was leaving.

Her mother asked him:

'Please can you take the empty Volvic water bottles back?'

To me she came smiling with the paperback edition of the Tibetan Book of Death and said:

'Here, you can take this book, didn't you want it?'

'No,'

I tried to explain,

'No, Esther wanted me to read from this book for her.'

She looked a bit puzzled and repeated with the book under my nose:

'But you can have it, here take it...'

'No, I don't want anything anymore from you.'

And with her husband in his 'memorial home Esther' we shared a good bottle red wine together and our memories about the little lady, we both had loved and will love for ever.

After two hours together Esther's mother called him up and gave him different order for the funeral company. Under her louder and louder commandments he agreed and said after the call:

'OK, I will fulfil her wishes. That will cost me some hundreds more, but this is only once and after this the relationship to this woman can be new arranged.'

For me the death of my daughter it's like the chain is broken to her mother too - feeling of freedom.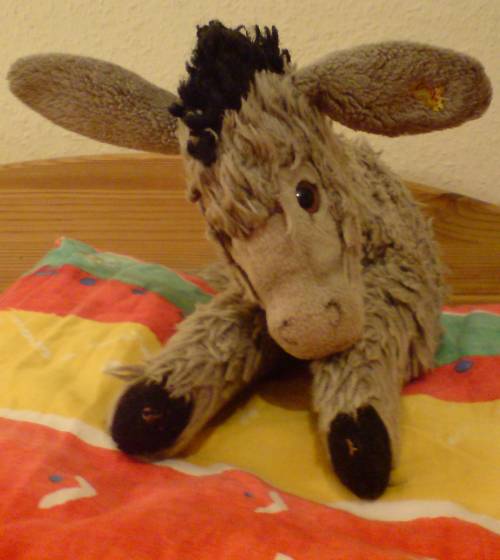 I sleep in her bed with her blanket and with the pet donkey.