The mother of my daughter converted herself together with me on the 2nd February 1981 to the cult of sannyas. For some years we both were convinced to have found the centre of spirituality in our Beloved Buddha Bhagwan. My spiritual progress with Bhagwan brought much pain in sickness like a spontaneous collapsed lung 1981, later the loss of my job, family and money and culminated the very day, when all my money to spend for my ripening in Rasheeshpuram was finished:


Then on the 21st of October, 1984, as last present the Master kicked me out of the Holy Oregon-Commune by his Highest Secretary Sheela and her followers.

The mother of my daughter served her Buddha-Bhagwan in a better and more devotional way in the circle of the 'chosen few' . She served Buddha Bhagwan in Commune Ashram Cologne and in Poona II

1986 was another miraculous meeting with my wonderful daughter girl in India. We travelled together with my next lovely women from Poona in a bus to Goa. Each precious moment with my daughter is burned in my brain.

After the death of Buddha Bhagwan Osho her mother changed the Master: She converted herself to Sheikh Nazim and these followers.

It was an impressive meeting with this wise, old man here in Munich for me too. It was rather difficult to follow the Muslim prayers of Sheikh Nazim disciples in a Munich hidden Mosque at "Rotkreuzplatz". But when you keep in tune with the movements of the man by your side, it is possible, to manage these Muslim prayers.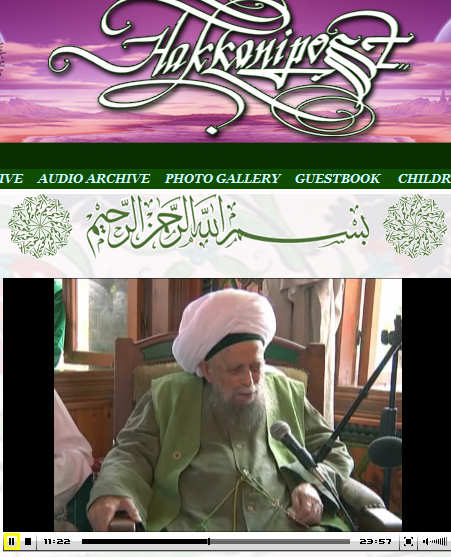 Video messages of Sheikh Nazim