What is Damanhur? info about Damanhur -(their site)

I didn't know nothing of this when I was sitting in bus from Ljubljana to Damanhur.

Damanhur is located on a very active energetic point of the planet.. 4 Sychronic Lines meet att this place. there is only in Tibet one such point, accessible on the earth. The ancient Chinese called these lines the 'Back of the dragon'.. read more about this here if you like

I divided my album in 3 parts

First link:Damanhur I
Zagreb-Ljubljana_Damanhur ,welcome center in Damanhur and Open temple, sacred geometry on the floor of temple, sculptures all around.


Second link: Damanhur II
Painted houses in Damanhur,Garden with places for meditation , little figures which Damanhurians placed in garden, big obelisks as 'acupuncture needles' for place,like cosmograms..


Third link: Damanhur III
Visiting exhibition of art paintings (selfic) of Falco as they call their 'guru' Oberto Auriadi. Visiting one Eco-farm with greenhouse and some cheese production(no pictures of cheese) you can see few pictures from post cards : Temples of Humankind which are underground.( 72m) It was not allowed to take pictures in the Temples.

"beautiful underground Temples, created entirely by hand and decorated with mosaic, sculpture, painting, glass and metalwork. The Halls of Water, of the Earth, of the Spheres, of Mirrors, of Metals, the Blue Temple, the Labyrinth: the Temples of Humankind are a three-dimensional book, that tell the story of humankind through art and beauty. The Temples are also a laboratory where science and spirituality are united in the search for new paths for humanity." in one such laboratory it was some strange light creating strange effect (fluorescent..) and many wires were hanging in spiral form like in big test-tubes . Selfic structure...hm (I didn't understand it well..) "Constructing a selfic structure is similar to placing a body at the disposition of the Self itself. One can define the particular kind of energy that manages the Self itself as 'intelligence' as it continues to use the laws of its plane of existence to act in ours..."

there are some bracelets and items in which functions these selfic structures...??!! (Osho in my mind 'prevented me' to buy one... 3x I was on the way to buy it..but..I didn't..) ....there was laboratory for time travel... (somebody in group said that once ,2 persons didn't returned from their travel..?
....................................
we had good time however. accommodation in simple and comfortable rooms . possibility to prepare simple food and tea or to eat in their restaurant. Some people,visitors, were vegan or fruitarians.

Have a nice time with pictures and ideas!
z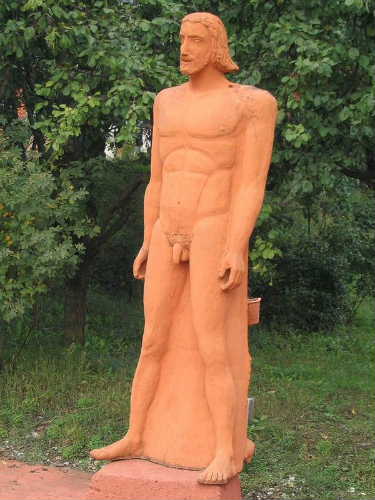 sculptures all around.