Now, your mind mirrors asks: ''isn't this all too much? My car is a wreck, finished. My job is lost, finished. My only room is in a mess. Toilet, few steps downstairs. My fridge is empty, only my mind full, full of sorrows. All these expectations on my little life! Are these people crazy? Or am I?''

''Stop mind'', orders a warning voice deep inside: ''that's to much, stop this! ' Never mind, ever, doubt your own integrity, ok? You are my mind, my greatest possession! Except all your dysfunctional sorrows and thoughts! Thoughts? Facts! Facts! Facts! My life is so sad! No driver licence, no licence for love. Only boring paradise pussies on my video and an empty fridge.

Guess, another day wasted in life! Guess, go to sleep now, to have better dreams than this sad sobriety! F*ck it! Now, give me a good bible quote tonight, to make my dreams come true! Ahhh, this is it: the thought of the day: ''At the end of the day, the night begins.'' Oh, thanks my Master, one point is fixed in my flowing life: your untouchable truth!

Mind signalises: '''haeh, haeh, haeh... untouchable is the last social class of your Master's paradise, India, haeh, heah, haeh!''' F*ck you, my mind, give me a break. Observer starts snoring soon.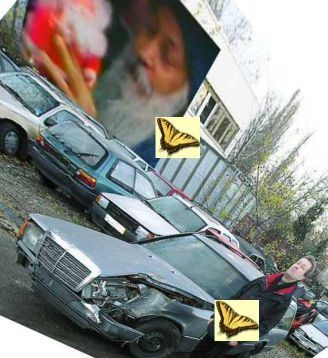 My car is a wreck, finished