Monday, 27. September

To much, to far, to long, to arduous, to mechanical, to thoughtless.... Varberg in Sweden, a sleepless moonlight night, up since 2.00 a.m., reading a book for my job, I write a review in the night, can't sleep anymore. At 5.00 a.m. I start to prepare coffee for us two, at 6.300 we are on the highway in direction Helsingbor, Malmoe. Around 250 Kilometres we drive to this our last city in Sweden.

When Mima drives through this sunny day, my tense nerves start to relax. The body falls asleep.

Mima is anxious, that the bridge to Denmark is closed, because the wind brings car in danger. Her ridiculous fear on this sunny holiday creates anger and more tension.

In Malmoe we park beside the public library, that I can send my book review to my colleague in Munich. I can not finish my ''7th report from our northland voyage'', because my free half hour is used up.

We walk through Malmoe to the Tourist Info in the train station, and ask the price, to pass the bridge to Denmark: 280 Swedish Crowns. Exactly that money we still have.

So we leave Malmoe without a last bath in the midday sun. Longing for the sign ''Cold bath house'' my body would prefer this joy a thousand times instead to travel on today. But we continue without mercy, pass the bridge - 14 Kilometres from Sweden to Denmark.

The already stressed nerves drive now to Copenhagen, we have to go there, because we need to change Danish Crowns.

Miserly we only change 50 Euro, I spend more than the half part for food: water, fruits, cheese, bread, butter, milk. Mima has cooked our daily ration of noodles. She is such a patient wife in all these enormous efforts.

I give her money, to feed the park clock. She's miserly, only pays for one hour. We take off the bikes, the wind blows them down on the ground, she's angry about this. So we bike through Copenhagen, see the Opera, the harbour, some buildings of last centuries powerful warriors demonstration. Every nation is proud about their killing historic cruelties - except Germans.

A British private Yacht of a Multimillionaire, a swimming motor home parks before the palace. Splendour and sweat, the rich ones buy beauties, the poor ones get drugged in misery.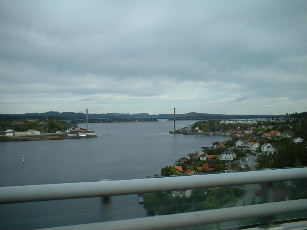 When Mima drives through this sunny day,
my tense nerves start to relax.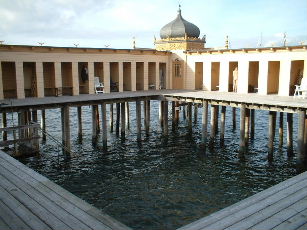 Varberg in Sweden:
the ''cold bath house''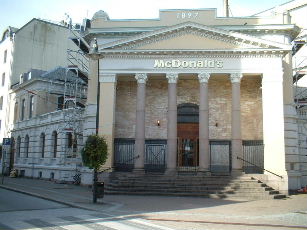 the rich ones buy beauties,
the poor ones get drugged in misery