Wednesday, 15. September

The morning behind the dam brings fresh, strong wind. Sharp sand needles whip over an empty beach. Wild waves with white waters invite to jump inside and to fight with the floods. Sun dries the body. Arms. legs, muscles in motion to warm the blood up. Each cell is filled up with life energy.

Finally we have finished bath and breakfast and drive few kilometres to Rostock harbour. The ferry boat shall bring us over to the Danish town Gedsar in two hours only. But the boat is cancelled: a hurricane before Denmark!

So we change the way and drive 70 Kilometres to Stralsund. This town is not yet fully renovated the last 15 years after the fall of the Berlin wall. Still rotten houses are for sale. Some historical monuments are still under construction like the church inside. We leave Stralsund for the famous island Ruegen. This island we cross from western to the eastern side, 50 kilometres. There is the harbour Sassnitz. For 105 Euro the ferry brings our motor home, Nobydick, Mama and me in 3,5 hours over to Sweden. The town is called Trelleborg. The ship leaves at 8.00 a.m.

The evening we enjoy a sauna bath in the Hotel Ruegen in the middle of the town Sassnitz. We use the parking place in front of the Hotel and sleep there after the Sauna bath without dinner till 6.00 a.m.

From our car window we look over the sea. A lighthouse sends signals. The deep sound of a heavy boat diesel engine shares the silence with the last night cries of the seagulls.

The sweat from the sauna towel still smells a bit in the car, but fresh sea wind from the window changes the air quickly. Mima reads in the bed above in her book. All hours together we share our life time as woman and man.

The afternoon tea we cook in a wild wonderful place, where horses are to rent for a ride. A little lake ornaments this place. Looking at the sky the majestic size of an eagle pair lifts my mood higher and higher with each circle, the big birds move around us. This our earth the Lotus Paradise.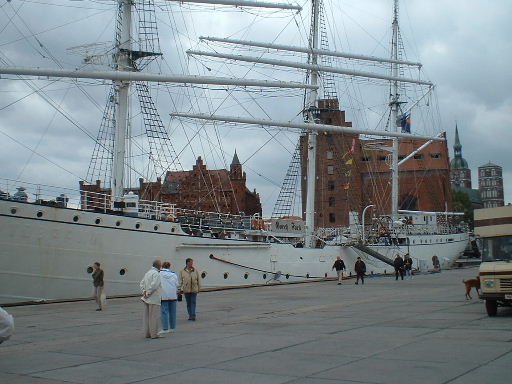 So we change the way and drive 70 Kilometres to Stralsund.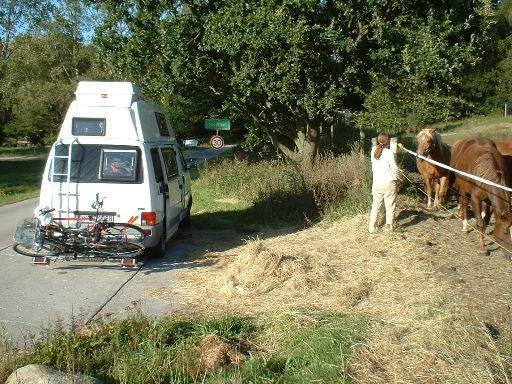 The afternoon tea we cook in a wild wonderful place,
where horses are to rent for a ride