---
Back to the roots: from Flensburg, 900 Kilometers away from Munich the buyer comes, to pay the price, we both are happy.

So much money! More than five years of my life work, to grab so much. Similar the buyer. Both we are nervous. The money was transferred after my lunch time from his bank to mine. The buyer drives Nobydick home to Flensburg. His 11 years old daughter is with him. Wife, daughter, all three need the luxury of lavatory and hot showers, we never dared to use.



So much money!
Memories fade back to my true Mimamai 1998 in Italy. That was the last time, we drove my old mother to Gatteo Mare, next to Rimini. My mother's old feet hurt, when she walks. So she loved so much, to walk through the sand on the beach.

Now, seven years later, the pool attendant in her holiday resort helps her, when she leaves the water.

Back to Italy, Gatteo Mare, seven years ago. We rented the blue Volkswagen for this voyage. The very tiny tent in the background was in use for many years, even before Mimamai with my long time friend Moni.



my true Mimamai 1998 in Italy

In Italy there is not so much rain.


We can stand this warm Italian rain

with a solid umbrella.

On the table prepares our

little gas cooker morning coffee.


Mimamai gets ''breakfast in bed''.

There she is: my lovely little lady:

Mimamai seven years ago in our tent in Italy.



Now we go back to the roots into Mima's 12 years old

''Blue Whale'' - here on our France holiday 2003.



That simple camping style is even more funny, special when we park

beside luxurious motor homes! The front window of such an

rolling palace is more expensive than old Blue Whale.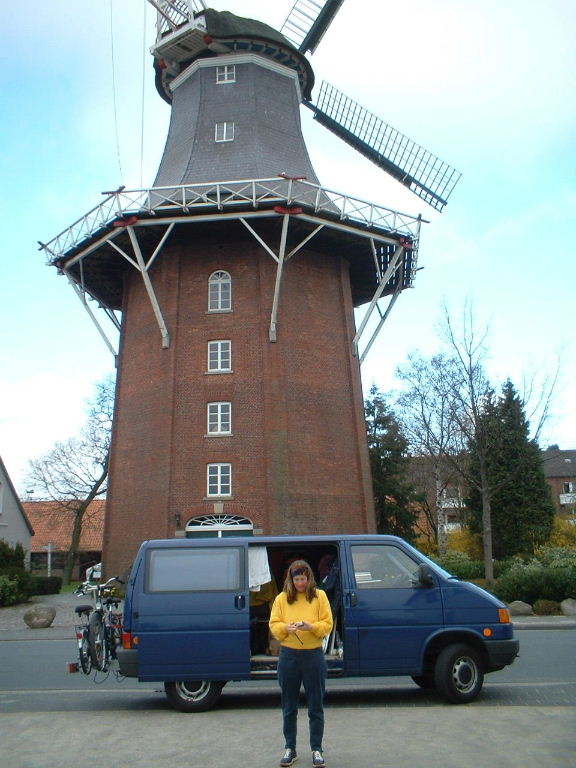 Windmill in Varel with Blue Whale and Mimamai
our last journey with Blue Whale, Eastern 2004.