Three hours from Munich Italian life style start. Three days voyage from every European city you reach to the Oceans, to Russia or Asia. Europe is a overpopulated paradise without earth quakes, tsunamis, murderous ghettos.

Nevertheless the tension in people, special in big cities, increases. Conflicts come closer. Third world people dream of the European paradise as land filled with streams of milk, money and honey. Dream land under attack: things come with shorter supply: work, water, air, energy, land and food.

Mima has to inspect her 10 years old VW transporter, her ''Blue Whale'', she uses for her Christmas Market. All cars have to pass this examination every two years.

We have used her car for many summer journeys. We can use her Blue Whale again for this. One thing I'm quite sure about: the world is beautiful, wherever I am - under one condition only: I have to feel beautiful myself, to feel others in the same way.

Yesterday evening I watched one of these CDs from the Computer magazine, a film of Stephen King: horror, murder, violence.

This kind of entertainment is not useful on my voyages. I wander around the church St. Leonard, wash myself in a mountain cold brook, my senses tune into nature.

This nature with the soft mountain rounds, the changing colours, the clouds soaring down from the top of the hill, this nature inflames lust for life: A tender feeling of loving and longing, a melting into existence, into a love stream - BAH: nothing can be written form this magical mystery - except Blablabla!

Nevertheless it's a feeling, like angels dance around and inside, to send me into a night of fulfilled happiness.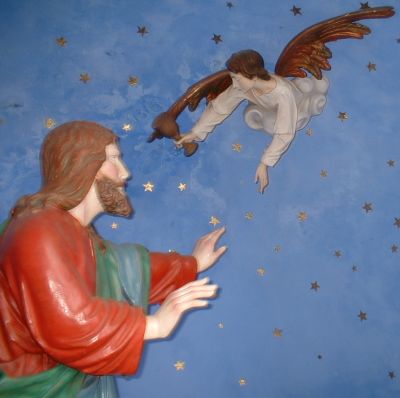 it's a feeling, like angels dance around and inside,