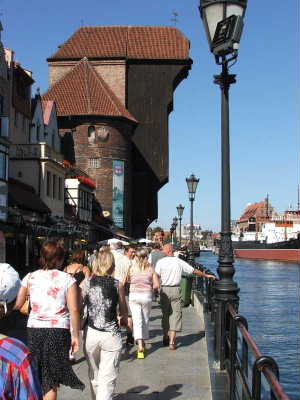 The hot August sun fades away these dark clouds of historical facts. People buy, sell, eat, drink, walk, dream, just the same as we do.

Memories remember the birth, youth and school days of my mother, her sister, her family, who all had to leave 1945. My mother met my dear old dead Dad in those war days in Paris, the year 1943 or 1944. Now she doesn't talk anymore about those days, when she was a young woman of 20 years only.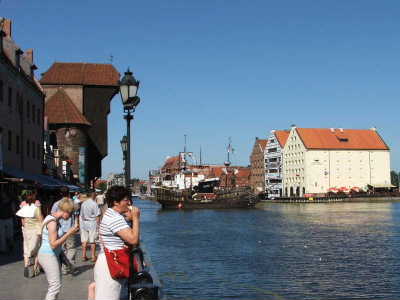 Girls now show their beauty like everywhere, to attract young and old men. All sunny Sunday brings up feelings of peace, joy, happiness. The only clouds ascend from the chimneys of factories or of old busses and old ship engines with black oil smoke.

We rest in a splendid restaurant (www.tawerna.pl) at the Motlaw river. The old crane tower from the Middle Ages gives an impression, how busy working men created this richness hundreds of years ago. In two immense wheel men run around, to unload up to 2000 Kilograms from a ship in the harbour.