The Search for happiness ....
| | | |
| --- | --- | --- |
| .....is the... | ...search... | ...for mystery! |
---
My memory goes back to the restless voyage last week end.

"The search for sex, power or G*D, the search for money, mystery, music, the search for myself, the search for peace, love, relaxation - all the similar tension, on our journey from birth to death."
To these thoughts from last week end has to be added:


"A kingdom for a horse!"


Journey from birth to death: Tombstone of Mima's mother and father
---
| | |
| --- | --- |
| Translated in modern times: "A kingdom for a car!" | World travellers dream about more: "A kingdom for a 4wheel motor home!" |
---
My friend Klaus drove his

"

round-hood-Daimler

" to South America

. Klaus has prepared an Iveco Daily 4x4 with 103 horse powers and eight gears, produced 1998.


---

The Iveco engine is renovated.


---


Klaus will finish the car with kitchen, water, light, ready for summer holydays in the wilderness. My younger brother Ulrich comes 400 Kilometres to test this car too. He is as crazy about the car for extreme wild ways like Klaus. But on high way this car sounds like a truck at a speed of 100 Kilometers per hour.

Again last week memories come up: "It's never enough, what is inside out, always something is missing. What we are missing, we even don't know, but we know, we are missing - mostly ourselves, myself."


n0by with his brother and Klaus
in front of his house in Adlitz
---
It's an illusion to come to deeper driver meditation on the high way.
Even in the comfortable, silent speedy "Seacow"
the nerves are tense.
Tension changes into relief:
Together we share food and our travel experiences.





Bamberg in summer time reminds on Venice



The catholic cult blesses bikers.



On a bike like this Yamaha 650
my younger brother Ulrich drove to Tehran/Iran


decades ago.
---
The body sweats out these tensions from journeys, impressions and talks in hot and healing Sauna bath. A fire burns in the sauna. The beautiful Bavarian country shimmers soft and green in many colours.

A tense body, a tense mind, all desires left create stress and unhappiness. It is fun to buy, but a burden to keep these possessions.

Klaus has a second motor home in the U.S. near Oregon. He will travel at the end of August to Oregon. Klaus will drive with his second motor home to Mexico. In the winter time Klaus will travel with his "round-hood Daimler" to Mauritania, south from Maroc for several monthes.



These voyages keep his mind busy like these little week end journeys mine. What do we get?


The beautiful Bavarian country shimmers soft and green
---
Life is journey. It's a short way from birth to death.
All journeys are full of wonders, hence life is wonderful.
The country connects life more directly with the wonders of creation.
The stars shine at night. Travelling with a bicycle or by feet

you listen to these marvellous melodies of the birds.

Soon the grain is ripe.
The yellow colour reminds on blonde beauties,
nourishing heart, soul and body with love.
---


By the side of the road invites a seat and a table
next to a Chappel under the wings of an angel to rest.

My little can of fish needs to be shared with a cat.
Seldom cars or motorbikes pass by my side.
A chimney leaves grey smoke to prepare
the sunday meal. Butterflies dance around.

All creation is filled with a drunken mystery of happiness.
Life feels like a meditative mystery moved by an holy happiness.


For just one indescribable moment these words
flow from existence in my little PSION handheld.

It's more like paradise: This is paradise!

Nature rewards these happy moments:
Behind the chappel nature donates
as desert wild rasperries.
---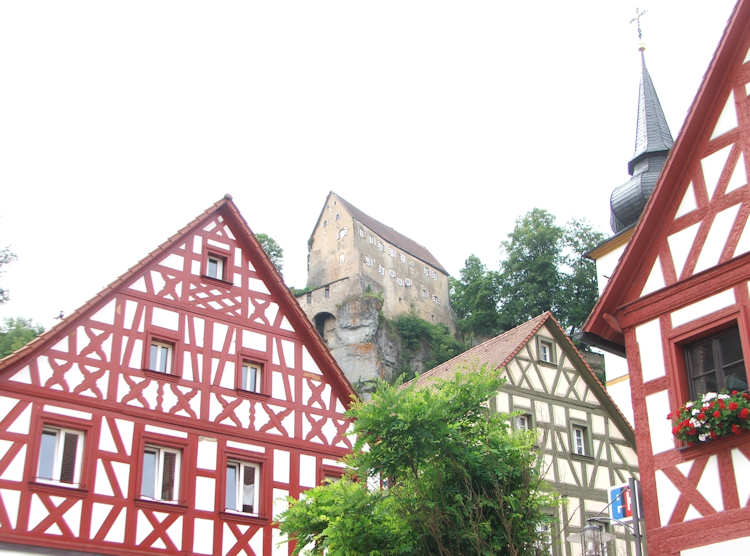 Bavarian little village: Pottenstein with framework houses and castle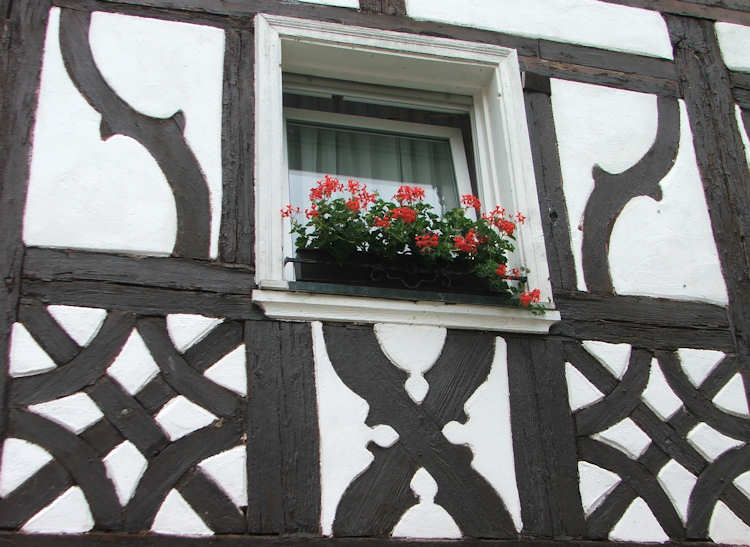 Framework in Pottenstein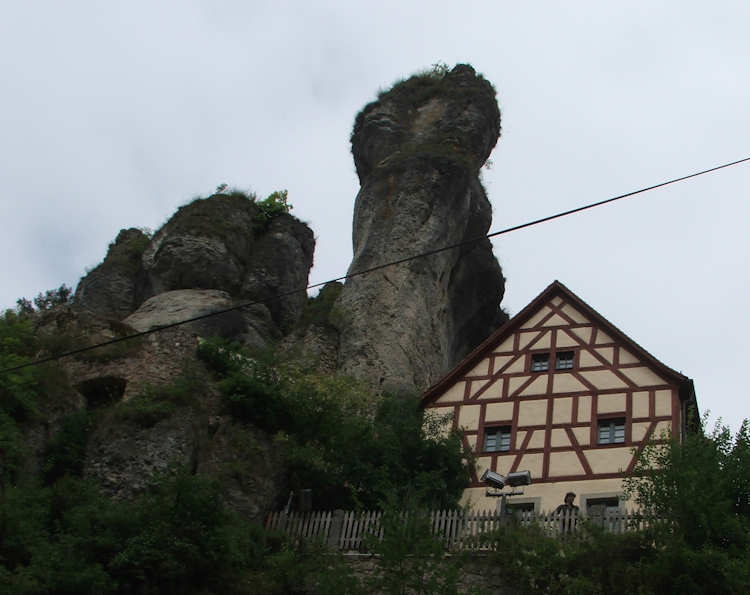 Tuechersfeld: air health resort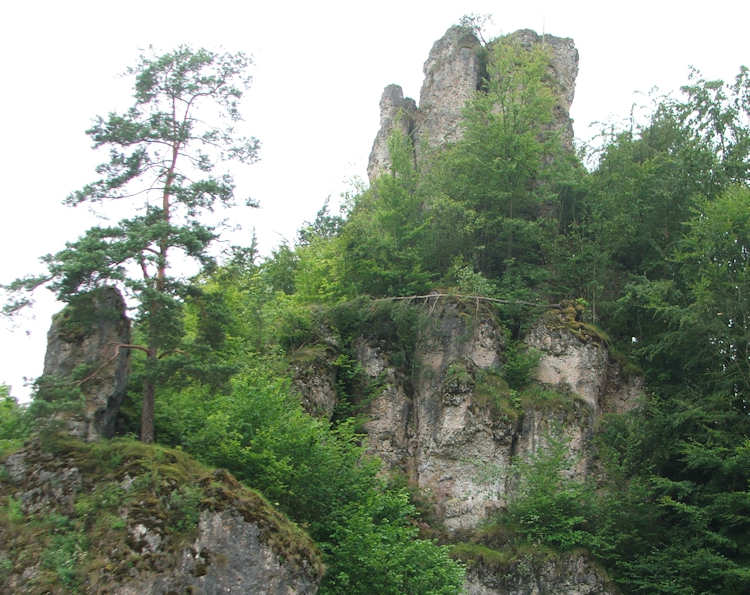 Bavarian region called "Franconia Swiss"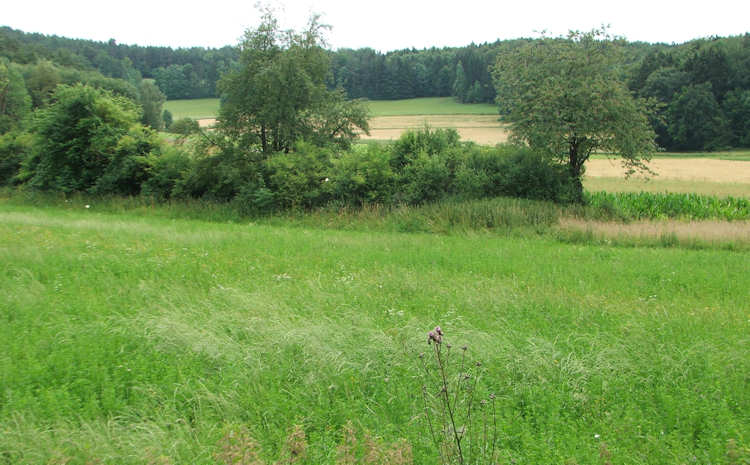 The end of this week end prayers