Our n0by group gathering is like life on the camping place: everybody comes, cares for him- or herself maybe for a dog. But nobody cares about the neighbour. Nobody knows what the neighbours cook, eat and how they live. An anonymous gathering here around the sea, at n0by group people gather around illusions, we almost believe as our 'truth'. But even in my sarcastic mood I enjoy the inspiration of the neighbours, coming and going and leaving short traces in my memory. Good days long nights awake and short Internet Entertainment at the village around the harbour.

It's the last night on this marvellous island Cres in the southern town Mali Losinj. At 2.00 a.m. it's still warm enough to sit outside the car, to watch the next island Susak with the yellow lamps dancing over the distance, the stars in the dark black night and the sleeping neighbours in tents and cars around.

Inspirations come with people to meet, but for me it's difficult to contact people. There has to be some point to connect like to the neighbour, an old couple. They are from France with a Mercedes truck MB 100 D. Man and his machine or his machines are a key to the life style. So the neighbour apologizes in the middle of night about the loud door that wakes people up.

'Doesn't matter', is my answer, 'I suffer from sleepless nights.' And so I can continue to explore the age of the car and technical data: 'build 1989, 200.000 Kilometres, 72 horse powers from a 2400 cc Diesel engine.'

'Exacts this engine I once drove in my Mercedes Daimler /8, build 1975. This engine is good for 400.000 kilometres.'

That are the magical talks under the star light in my last night on this island Cres. The exclusive red wine from the harbour shop inspires with more magic. Dreamful thoughts admire the wonderful lady in her short dress with long flowing brown hairs, such a hormone angel to inflame my male fantasies.

My most honest and happy laughing Mimamai wakes up naked, puts on her shirt and short trousers and walks to the toilet 30 meters above.

Either I swim in the sea toilet 30 meters deep down or I walk 30 meters above to the clean luxurious sanitary complex.

Mima snores softly. The short wave radio reports about the wars worldwide: the short oil supply, the IFA exhibition in Berlin about new radio- and TV technology and one week later the IAA fair in Frankfurt about new cars.

The egomaniac gain- and greed- society, where I'm part too, dreams about energy reduction with similar luxury pleasures.

Many working people in the shops are cold, nearly unfriendly. This island town Mali Losinj suffers in high season from 30.000 tourists and now still from 10.000 tourists per day. Therefore sales people are happy to talk in their shops with someone, who knows their Croatian language. I learned my first word today from my Baedecker book: 'Doba dan - Good Morning'.

In a restaurant at the sea side with few guests only I have invited Mimamai yesterday evening. There I managed somehow a more friendly atmosphere with the waiter. 'That looks good', I comment the coming plates. Sometimes it's hard to work in a happy mood. And somehow I feel, that every breath to death is work. It depends on some Inner Chemistry, if the breath comes in and out in happy or unhappy mood. It's all 'G*D's will - Inch' Allah'. Osama Bin Laden recommends Islam Religion as cure for the U.S. Hallelujah, that's the spiritual ego of christians versus islamic politics and priests.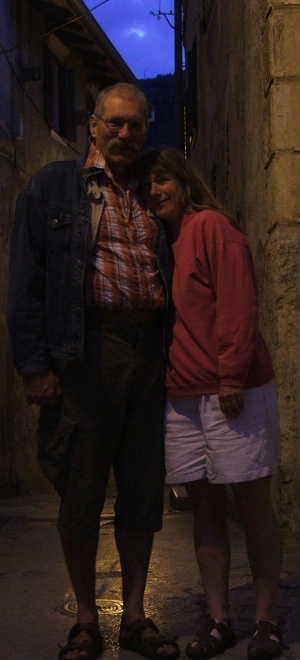 I have invited Mimamai yesterday evening.