Because it was her first long mountain walk this year, she has a little headache. I have cooked pasta with onions, a bit butter, some olives - a very simple meal. 9.00 p.m. Mimamai sleeps. She loves to sleep eight, nine hours each night - for me nearly impossible.

Most mornings she stands up with a smile. Somehow she is nearly all day long happy, she is simply always happy. When she's around like on our little journeys, she shares her happiness with me. In the nature, on a voyage we have such fun, it feels like paradise.

Does this sound pathetic? But it's so true: I sit here on the last little place left before our bed. The last rain from the leaving thunder storm flatters on the plastic roof of the Sea Cow. Thankfully wander my thoughts to these countless sweet little moments of her smile, her voice, bringing me back to my senses, back to happiness.

An example: When we returned with our bikes, many mountain cows hindered our way before a fence on the street. We had to push around 10 cows away, that we could open the fence and continue to drive. I had no idea, how the animals will react, but we could pass quite smooth. I closed the fence, a little bit in stress. Mima sees my face and say laughing: ''Don't look this way!''

Immediately I relax and feel happy again.

There are some critical points in our life, three I remember right now:

1. In her critical days in the month she suffers somehow from a bad mood. Then she is capricious, wants to be right all the time - and one days later she laughs again and asks kindly for my understanding.

2. When she is hungry, she needs her food rather quick, otherwise she turns bitchy - that's worse than to rest in the next best restaurant.

3. When she is tired, she needs her sleep. In Skype talks with my friend Veet Thomas i.e. I can't quarrel with a loud voice. That would disturb her in the next room.

There are two more points, that disturb her tremendously.

4. When people smoke in restaurants, she can not enjoy her food. She gets angry and sometimes she complains loud to me: ''Can these people not taste food without this terrible smoke''. But I can't do anything.

5. She can't tolerate less and less, that I enter the house or the car with dirty shoes or feet. First I had to put off my shoes in the first room of our house. Now she asks me to put off my shoes before I enter the house. And this year she asks me, not only to put off my shoes before I enter the house, but next to wash my feet first, before I walk into other rooms.

That's not so comfortable, but I have to admit, that in my summer sandals and from my daily bath in my dinner rest in the lake next to my office, my feet appear a little bit black. Before she gets angry, I wash my feet. Is there any male on earth, who can stand his angry woman?

BTW: She calls me 'Walrus'. When she is in very good and relaxed mood, she understands, that ''Walrus fins'' are always a bit muddy and unctuous. With ''Walrus fins'' she points to my feet.

That's the way my 'Satguru' Mimamai rules my life. Nothing special, lots of ordinary little stinky farts, all her sounds, her smells, her movements and moods are so very familiar, conversant, that she is felt as part of my life. When she's not around, I'm missing something.

Only sometimes I prefer aloneness, specially when I need to relax from sick, serious stress. In more balanced mood - like in nature, in holydays - I appreciate her presence so much and feel blessed by her life. Is this love, my 'Satguru' Mimamai teaches?

Now soon it's 10.00 p.m., time to brush my teeth and go to bed too. After such efforts our bodies need to relax.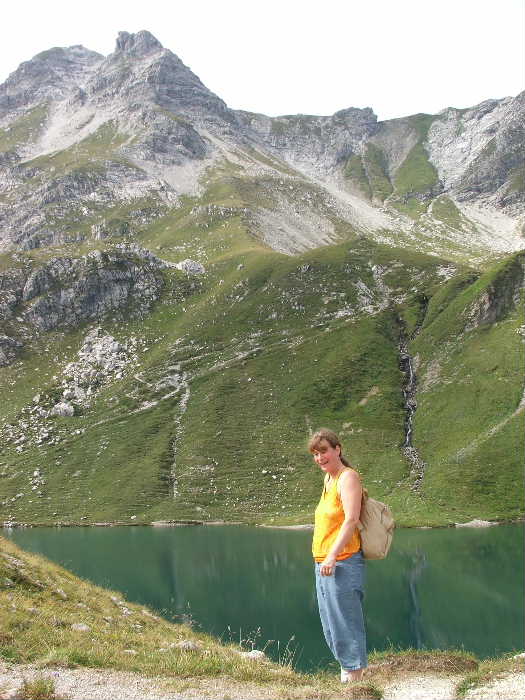 When she's around like on our little journeys, she shares her happiness with me.