On the way to swimmming pool in Södertälje
| | |
| --- | --- |
| Message 19846 of 19873 | Thu Jun 9, 2005 4:32 pm |
---


Södertälje is little harbour town on the south of Stockholm
I am going to there to swimming pool ...just create illusion of summer..



Water is clean (chlor-desinficed,
that my body smells on chlor 1 day later),
but it is warm.There is also buble pool (jacuzzy).


One day it was strange red ship anchored in front of the pool.
when I saw name 'chemicals' Madeira..
afterwards I was thinking maybe they supply chlor to the pool..
but ship was strange color and I made picture of it.


Other day one big ship was passing the port.
I had to wait because bridge was up.
I like to watch this ..it is still amazing..
I was wondering why big ships must go
through the town and this narrow passage.
why not around in the open Sea?

but I have seen that some person come out
and collect money for passage.
then I understaood why...maybe this is left from vikinga time.
Some sort of custom..


And finally this days young people are celebrating
their final examen in school .
here they call it -studenten.
In my time it was called -matriculation.. it is the same.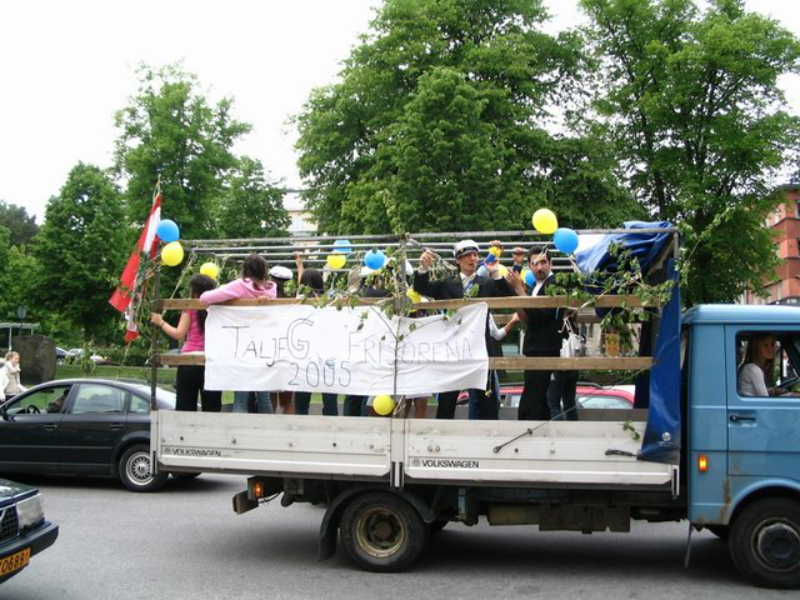 They are driving around city in lyx cars, trucks, and make much noise..
Maybe they wanted to say- "Hej look att us we are comming ...."
On one car was written ¨"Fi Fan vad vi är bra!" (what hell we are good!)
Some of them will continue to study, (if they can enter desired university),
some will go to work (if they find job) and some will stay at home..(social help is possible..)
Today they screemed away all problems..
..
here are only 2 pictures of them.
love
zora
---