n0by
BE IT INFORMED TO ALL HERE......................
OSHO CAME TO ME IN MY DREAMS AND HE GAVE ME SHAKTIPAT AND THEN I BECAME ENLIGHTENED AND THAT TIME I BECAME OSHO AND OSHO ASKED ME TO BECOME HIS PROPHET AND FURTHER ASKED ME TO SPREAD IN THIS WORLD, THE SANYAS AND ENLIGHTENMENT. HE ALSO TOLD ME TO TELL ALL THIS IN THIS COMMUNITY. OSHO LOVE THIS COMMUNITY AND ITS MEMBERS.

OSHO TOLD ME AND NOW IT IS CLEAR TO ME ALSO THAT NOBODY IS ENLIGHTENED HERE. BUT SOME ARE VERY NEAR TO IT. SUCH AS ANAND, SWAMY VEET, RAMCHANDRA, ZORA, JEEVA, VARUN, MUNISH AND SOME OTHERS...

SO OSHO TOLD ME TO GIVE A FINAL PUSH TO THESE LOVING SOULS SO THEY FINALLY BECOME ENLIGHTENED......

COME TO MY AND ONLY MY SHELTER ALL OF YOU AND GET NOT CONFUSED TO ANY OTHER THING.

I AM HERE TO SAISFY ALL YOUR QUERIES REGARDING RELIGION, ENLIGHTENMENT, LIFE, DEATH OR WHATEVER YOU ALL WANT TO ASK.......

SO C'MON GET

ENLIGHTENED

.......I AM WITH YOU.
Hello,
strange things happen..is it coincidence?
n0by is sailing in peaceful waters of life..
and in the same time his name was
taken by someone on orkut who love it very much.
n0by didn't copyrighted it.. [;)]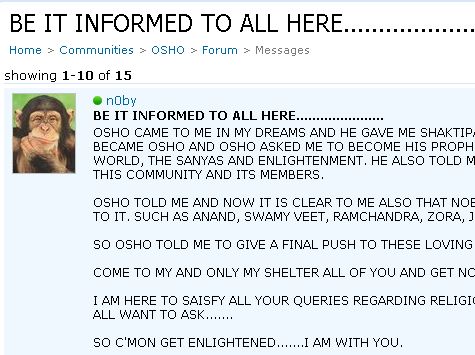 you can see now reincarnation of n0by(name),
childlike inocence and joker.. [:)]
love
z