Heavy rains start in the morning and our water resistance clothes are all wet. My woman cares for her car and everything inside our net. Her rules to leave the wet coat on the stirring wheel are strict, the doors have to be closed immediately: "No rain drop, no mosquito is allowed inside my car!" And the rains keep falling and falling with lightning and thunderstorms all over the day.

We explore for hours the Avignon Pope Palace, build centuries ago, when there have been Popes in Rom and in Avignon. The grand old buildings astonish my woman, she admires the splendour: ''Bhagwan had not much compared with all these richness!''

Coming home to the Camping Place near the river Rhone, the lazy flowing waters start to run quicker and quicker. A view over the fence of the place give the glimpse, that the waters of the river are above the camping place. In the reception is a book with the flood catastrophe just one year ago: All of the place was flooded one meter or higher. So we want to leave our place and stay a little bit safer on the street to the exit.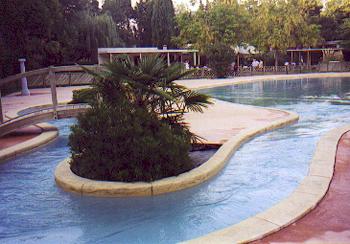 Camping Place Avignon - Pool for us alone
But the car does not move out of the mud anymore. The wheels loose all grip on the slippery ground. My woman is angry: ''You enjoy the Avignon Pope Palace, even one hour in the Internet Cafe, but you don't care for the car, the rain, me and shelter!'' How can a man shelter a woman against these thunder strokes, rainy times, slippery ground, mosquitoes, growing floods and traffic noise? Her angry mood makes me look for help. Four young Germans from a travelling group and the night guard of the Camping Place help, to push her car out of the mud on a save street to leave. With a lot of wet clothes in the car we leave Avignon in the morning to the South. And the sun.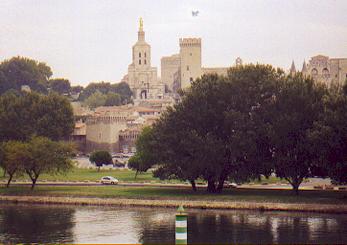 View from the Camping Place to Pope Palace