But you never are sure, that snow will fall again. Last week a bit of snow came again here near in the region before the Alpes mountains begin. And most nights in the year are cold.
When we sleep in our motorhome N0by Dick we need the heater. The heater, the fridge, the oven and warm water are provided by two big bottles filled with 5 Kilo camping gas.
So nights in N0by Dick are cosy and comfortable. Saturday we cook three times a day, coffee, soup and even asparagus. We visit Mima's 76 years old father, who stays here for his holidays.. It's nice to cook and to eat in the car.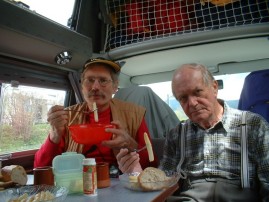 Visit to Mima's father: in Bavarian holiday
(click for big size)