This Camping Place Laubichl has a swimming pool, sauna and a hot spot for Internet Connection too! What are Internet connections good for, when, as soon my words run free, some censor starts to cut my line?

Better to write to myself and some rare people, honest, strong and true enough, either to laugh about written fantasies or strong enough to stand all affronts and attacks from a superior level of understanding.

Best are the rare ones with straight spine to stand disagreement and controversies. Best are the rare ones with, to stand the feelings, words, stories, fantasies create.

Absurd scene in SSackratshita's ''new-sannyas-list'' once again: Tatina-Gogo, the hardest, hottest, most provocative mouth bitch attacks lion heart Valerie, often shaken in Kundalini experiences.

Valerie with theatric gesture leaves this new-sannyas-list utterly pissed, to join five minutes later laughing again.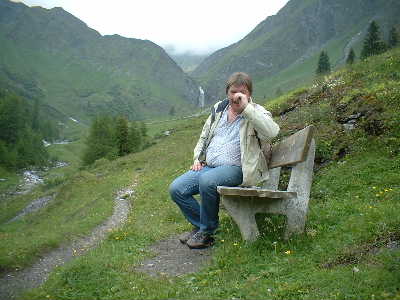 Burkhard, born 1962 - not Meters above sea -
will come in the morning, to accompany me.