We are happy to meet, and start breakfast with red wine. My lovely brother rings up my cell phone and joins this meeting.

He reports, that our mother has money enough in the bank account. Gold pieces are stored their too. My mother asks the bank employer, to give her all the money, to take with in her handbag. My brother convinces my old mother, that 10 per cent of her money are more than enough for her next holiday months. She listens to him and follows his advice.

Back to my friend Harald. Harald has not worked for any company since around 30 years. He writes songs, gives piano lessons in private, dives in hundred of books. Happy he drinks daily several bottles wine or beer, and cultivates some long time female relationships.

Harald lives quite comfortable from government money, written in a weird way: Harald lives from the taxes, hard working people have to pay. Harald is very proud, to use his time and energy for himself, to develop his little artful skills. In this way he pretends to show up as honoured wise authority for friends, youngsters and everyone, who accepts his rehearsal.

Since nearly three years he lives a nice niece, the daughter of his sister, a 20 years younger lady with two children.

The happiness is slightly disturbed, because her little sister got AIDS from heroin abuse at her age of 15 years only. Meanwhile as young mother in her flowering youth of 22 years, mother and child balance life with the necessary amount of drugs like beer, wine, tobacco with or without marihuana and other delicious enrichments to ease the pain of daily sorrows.

Harald has three or four children too. His oldest sun, 30 years, can't work anymore, so this young man lives early retired and hopefully happy from government money too. Harald has not much contact with this young man the last years.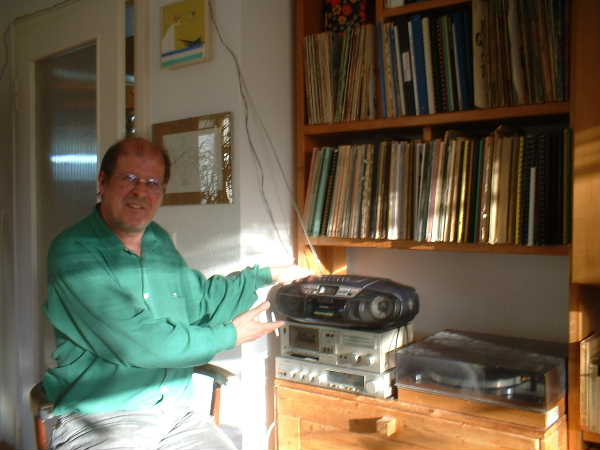 I have installed their 20 years old stereo music centre.
Only the youngest daughter of his woman now is not willing or able in her tender age of 14 years, to suffer in daily school lessons. Or the child can't follow parental discipline, to come home at night.

Police and professional therapists can't help this poor child girl. In my visit this fascinating lady child accidentally returns before midnight. Guess the tender girl feels much smarter than Harald and her mother, and expects a funny ''no-future-life'' with public caring till her last breath. Just like most people, who accepts everything without paying any price.

Harald and his woman celebrate with inspiring conversations the fourth or fifth bottle of wine during the night. I have installed their 20 years old stereo music centre. We had to invest 10 Euros only for three cables.

With this equipment Harald can use again his music collection from his last decades. From alcohol inspired Harald and his woman pop up the volume long after midnight. I leave their flat, to get my things for the night out of my little red car.

With pride and happiness Harald and his woman find out with their loud night music experiment, that their neighbours do not alarm the police because of their sleep disturbance after midnight.

Next early morning I leave the scene, while they still sleep.