Tired from this kind of group adventures and public intimate sharing about some anonymous people my feet find my rolling home soon to sleep a couple of hours.

Life plays theatre alive. Is there any reason, to dive deeper into newspapers, into any other story but your own? Are there people around, willing and able to share true stories from alive joy and adventure to explore themselves like others?

From Nuernberg, two hours north from Munich, where I met my daughter and her man and stood Friday night, to Hannover are five, six hours highway drive. The highway Nuernberg-Berlin was closed all night: heavy trucks could not continue the voyage on the snow slippery streets.

With the voyage in the world outside my thoughts travel in the world inside. Three hours more in northern direction lives my old mother with her 84 years, fresh operated eyes in a little hotel right now. In such holiday places, where she gets all comfort, she spends the money, she has earned in her life with my father. Her youth friend from war, with her in Paris 1943, where she met my father, is 94 years old. Her friend eyes are blind, she lives in a Hotel in South Germany.

This Sunday morning I return back south to Munich. Enough seen, heard from CeBIT 2005 on one Saturday visit.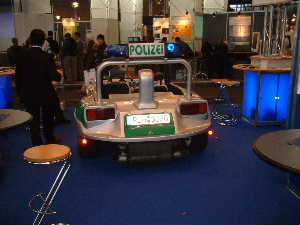 Police - friend and helper