In these times of the year my nerves get more and more tense. My fingers fantasise about the felt hypocrisy in the name of ''love''. Sex sells similar like Christmas-New-Age ''love''. Everyone holds up a mask of smile to sell better.

Friendliness hides beyond enmity. My nerves can stand better an honest enemy but those dissimulating false flattered friends.

People fight since hundred of years a serious war versus nature. Mother Nature strikes back. Just one look in the newspaper increases my depressive mood: who can still stand the extreme antagonism? Maybe a naked, dull Sadhu drunk from dope or a Western Drunkard poisoning to alcoholic cirrhosis?

Mimamai has initiated with many pictures from the ancient Bamberg City Hall, that the factories in Lithuania, East Europe, produce this year a model of this world wonder. Mima years ago has started to sell these little houses from baked brick earth for candles. This year a selling hut is new, who sells nothing but these little houses.

People in Germany grow older each year. Old people don't buy anymore those little lovely things and toys for children. Embittered and beastly my fantasies molest sleep walkers in New- or Old-Age-Heavens.

These Christmas Weeks inflame my personal war each year. And readers in n0by groups can't censor my web works! Here these words unburden my heart in a world wide sea of violence, exploitation and murder!

Coming home to my woman in her cold market hut, my heart comes home. Her simple presence relaxes my nerves. For me it's impossible to get, how a man can survive without a woman!

Thank you, my beloved Mimamai, to hold me, when I return from an cruel ice desert inside in your balanced oasis of warm understanding!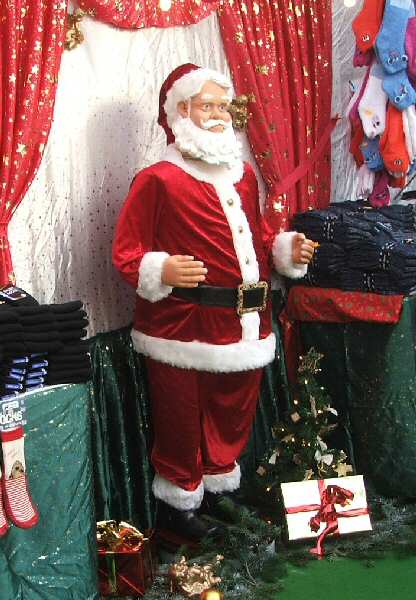 Father Christmas sells socks with songs and dance