24 Kilometres from Marienburg we arrive in ''Marienwerder'' (Kwidzyn), where the next church castle streches a tower towards the sky. In Marienwerder we search the school, where my old Ant had her first job as teacher.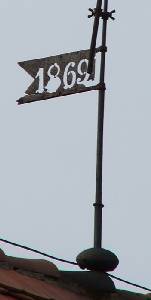 We find one old school, with a flag on the roof signed ''1869''.

Hopefully we have found the right one, because Marienwerder is a big town with thousands of houses and a douzends of schools in minimum.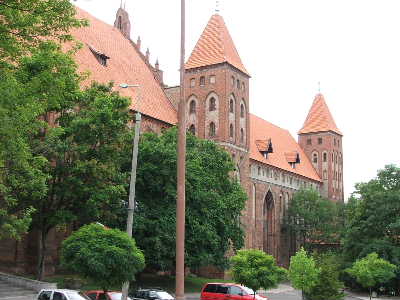 'Marienwerder''
We don't take the right way out of the town, because the best, biggest street ends in immense paper factory, and the little, lousy street, Mima takes first by her female intuiton, was the right one. But I doubted her truth.

My nerves are tense, under pressure. The traffic noice, the black oil smoke of wrotten Diesel trucks, we can't pass by with only 68 horse power of Blue Whale, the poverty in the villages and the wrotten streets disturb my balance.