Itís a hard drive in snow and ice through Germany, although the high ways are very comfortable. But a blizzard brings snow and ice. So our 1400 kilometres journey is dangerous.

On my first holy day my Mimamai and I drive to visit my Old Mom. The week before my old teeth are going. All years my 89 years Old Mom is loosing more and more of her memory. So she has to live with several other Alzheimer patients in a home with closed door. She hardly recognizes Mimamai and me.

The old ones are going; new born babies grow up quickly. My nephew is 14 months. He sits a bit puzzled in Mimaís new sledge. We travel 150 Kilometres more to motherís sister. My Aunt is 85 years old and lives in very good health. A third night we sleep as guests in the house of my son-in-law. We are happy to reach back to Munich and recover from these adventures in five hours sauna bath. At home we need nearly 12 hours sleep.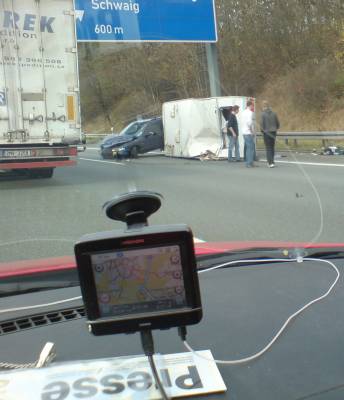 Dangerous week end: one of these hundreds of high way accidents