Few weeks from now my old body will be 61 years old. 17 monthes from now my obligation to pay my existence with money making efforts ends. Who will still be alive May 2011?

One of my best friends, Manfred, was born seven days before my Valentines birthday 1948. Seven years ago his body felt strong pain in the back. His diagnosis was cancer. Three months later he was dead. What happened to my friend?

My daughter suffered for two and half years from cancer. One year ago she died. My best friend Michael was a teacher for many of his friends. Michael died like another friend Rachiva few monthes before my daughter. What happened to my daughter?

A friend in our house enjoyed his money of retirment only seven years. In December he felt pain in his stomach, had to go in an hospital and was dead seven days later. What happens to all my friends?

Chaitanyo, a four years younger friend from Bavaria, lives now in Berlin. Long time the contact was broken, but in his last mail he reported his brain stroke from August 2009. Since this time he has to sit in a wheel chair. The high qualified Dr. Sarah from Down Under, who had visited us in Muich, a young, attractive woman, had lost her leg. What happens to all my friends?

The death and sickness of the old ones is easier to accept. The death and sickness of the younger ones, of our next friends, of my daughter is hard to accept. The hardest lesson is the sickness and death of myself. Nobody knows, when that will happen

These thoughs come up at 5.00 a.m. in the bad isolated VW Transporter, Mima's "Sea Cow". With the car my woman has earned again her money for the cold winter time in her Christmas Market. Now her body still is a little bit sick and needs to recover at home. With my friends Klaus and Mima's friend Erika we meet in the Bavarian Mountains.

At the parking place next to the river Isar meet more than 50 trucks, most of them old four wheel trucks. The oldest ones are Hanomag, built more than 40 years ago. The most primitive ones are heated by an oven burning wood. The biggest truck with 400 horse powers burns 40 litres for 100 Kilometers. But the owner gets old fuel from the airport. The huge engine can use the dirtiest fuel possible.

There are few millionairs with their luxurious vehicles. We all celebrate New Year Winter Camping togethr. At several open fires people gather and share their experiences. For me it is more exciting to climb 400 hundred meters higher from the pittoresque town Mittenwald on a hill called 'Kranzberg'. It is not enough snow to run the cable train uphill for the ski circus. So it is a wonderful silent mountain walk for hours. You listen only to your breath and the sound of snow under your steps.

It is not very comfortable in Mima's Sea Cow in Winter! The gas oven runs continously and warms my back. Next to the door the temperature is below 10 degrees Celsius. Outside it is below zero, snow is falling.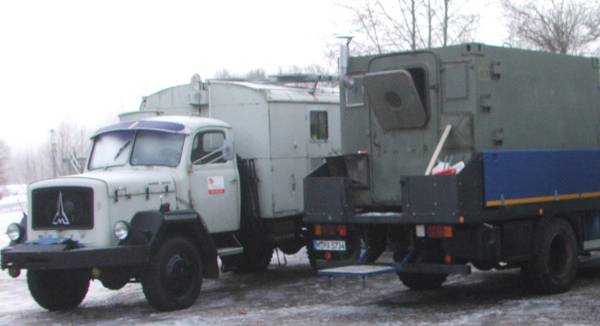 This old truck warms his shelter

with an oven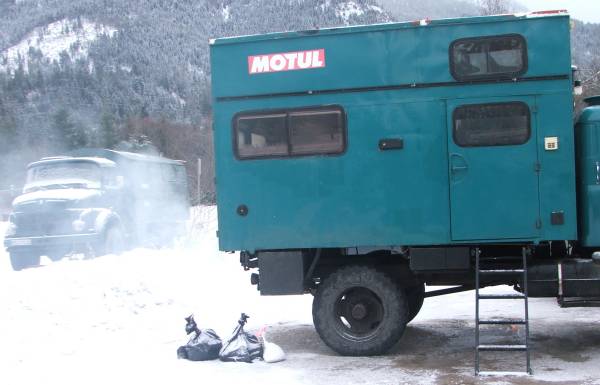 One of the oldest 4-wheel-truck,
a more than 40 years old Hanomag starts

with clouds of burned fuel.