Sitting in front of this screen, typing few words gives the author, maybe the reader too, a feeling to enter in a sort of "dream-machine". The reality is left behind, and the reality in these winter days with minus 13 degrees Celsius, with slippery snow on the streets, this reality is felt near to cruelty. But the ones, who make it home back in the warm room, that are the happy ones, ready to slip into dreams of words, emotions, fantasies.

The struggle on the high ways in a high speed above 100 Kilometres per hour is hard. Even every driver tries the best to gain distance in the cold, wet dark December, there is always someone behind quicker. Two tons heavy SUVs pass by. Some Highway fighters have always to win, someone gets lost in the abyss by the side of the street.

It is like the highest tower buildings in the world, nowadays in Dubai with 818 Meters, someone has to win the competition. Meanwhile the economies go bankrupt, doesn't matter, the fight for the Highest Skyscraper counts enough for honour.

The news report something positive about the climate deal in Copenhagen, but most this conference brought up: hot air to pollute the atmosphere more and more. With these jobs in conferences and on desktops dreamers try to substitute real life with dreams. Most dreams turn into nightmares. Who cares? Sarcastic jokes entertain us dreaming dancers, before again the Titanic perishes. The Titanic represents meanwhile our societies. Everybody wants to have the last, ultimate fun, before the party is over.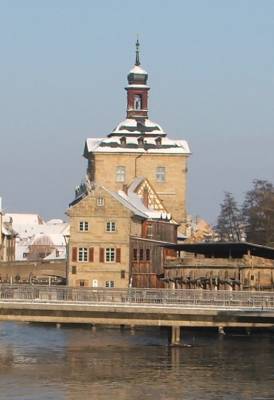 Fight for the Highest Tower:
Old City Hall Bamberg 12-20-2009