Bamberg – Munich on Sunday 1.00 p.m. high way drive home:

219 kilometers / 7,5 liter gasoil/100 km / 127 kilometers/hour
---
More and more calm and relaxed is my life. My job at the desktop is done quite easy. My colleagues are friendly. The dark part of the year comes with snow, rain, slippery roads. The evenings without my woman are attractive with silent hours at the T.V, daily newspaers and two glasses of good red wine.

Internet news are coming and going. Finance crisis burdens people. Terrorists attack Mumbai. The longer these conflicts, the bigger they grow. Change comes inside to relax deeper, longer, watching the sorrows pass.

The 1st Advent gave me peace in my home town Munich, exploring two Christmas Markets without buying anything else but food. The 2nd Advent we celebrate together: Mima works long and hard in her market hut on the Christmas Market in Bamberg.

On the way to my woman an impressive meeting with my daughter happened. She is ready to leave life. Since 0813-2006 we know the facts. Mima called me: ''Esther has a problem. The Professor has operated her in May and has forgotten, to send her the result of the diagnosis: cancer.''

Esther has tried in every way to fight the disease. It looks like she is losing the fight. She has passed all her examinations successfully 2007. She has married one year ago. The young couple bought an old, little house with great garden in the green country not far from Nuremberg. But the hope for life is leaving us more and more.

Nevertheless my daughter is happy and relaxed. Her body is weak and thin, because she eats not much. Nothing remains to do but to accept.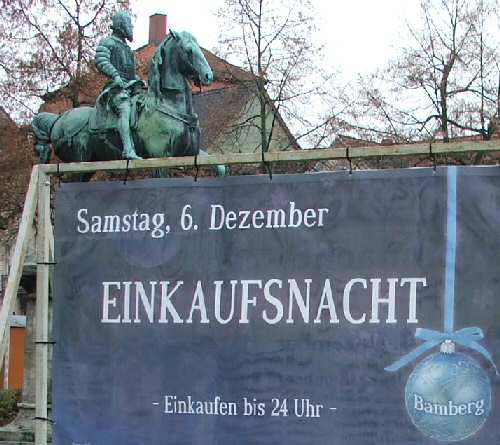 Saturday 6th December in Bamberg:
Mima works from 6.00 a.m. to 10.p.m.