Between roots and fruits
---
My life feels like an old growing tree. Parents root in the past, my daughter's branch look like fruits for the future. My woman Mimamai is the tree next to me. She stands closest by my side. Both trees share the soil, the wind, the rain and dry seasons too.

Since two weeks my woman and I are at home in Munich, but my body was not yet able to continue my work as editor behind the screen all day long. Last week my stomach turned around after the first day in my job. The second day was so terrible, that a doctor had to help the third day. Sitting 18 years behind my desktop in the middle of two screens it feels like an allergic reaction against work before the screen and conferences with colleagues.

Mima has to produce candles for her Christmas Market. So I have to visit my Old Mom without her heartful help. My brother comes too the 600 Kilometres distance to meet mother after her severe operation in August.

Mother is loosing her memory more and more. She feels insecure and lost in a world, she can't understand at all. Professional helpers have to take care of her sickness. Care and love for her situation feels like suffering of getting old too soon – a depressive feeling.



My Old Mother 10-03-2007
---
Mother's body and brain is fading away. All our expectations fail. Old people live in a world of their own. Last weekend my woman and I had with Mima's father a similar lesson. The world of these old ones doesn't function according to usual rules and usual communications any more. Old father of Mima like my Old Mom behave in an irrational way.

An example: Mima's father just had a few weeks ago an operation Just one day after this operation his friend of his same age with 82 years came to a visit the old man in the hospital. Just before her visit Mima's father Werner got 100 Euro from his oldest son. The father has signed this money with his signature.

The oldest son told his younger brother, that he had given father 100 Euros. But when the younger son visited his father in the evening, the old man again asked for 100 Euro. Astonished the second son asked, how his father had spent the money on his day in the hospital bed?

The father said: 'No, look in my pocket, there is no money.' The younger son found only 30 Euros left in the pocket of his father. But between the visits of the oldest and youngest son of Mima's father there has been another visitor: old father's friend, the 82 years old lady.

So the youngest son phoned up this old lady and complained with a sorrowful voice: 'We have to call the police, because in the hospital there must be a thief. My father got 100 Euros in morning, but only 30 are left in the evening, even my father couldn't leave his bed.'

After a while the old lady confessed: 'Yes, he has given me some money, must be around 60, 70 Euros. He was so happy after his successful operation that he wanted to share some money with me.'

Bamberg: Ship Christl on last sunny weekend in September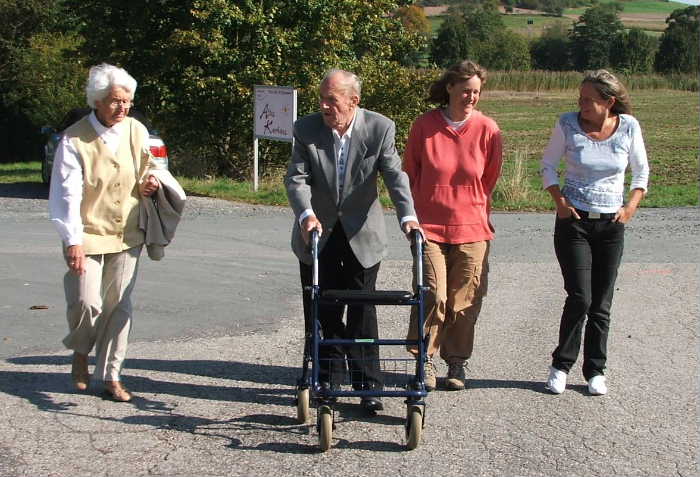 Two old friends: Mima's father with his two daughters
---
This is the more funny side of our visit to Bamberg. Mima had a technical inspection of her Christmas Market trailer, build the year 1961. But the old trailer failed the examination. Mima need to repair or to sell her old trailer. Mima needs new items for her Market. Mima has many friends to support her in these preparations.

The games of her father are easier to understand for us than the incomprehensible behaviour of my old mother one week end later.

She says to my brother and me, to meet us for a coffee break at 3.00 p.m. once again after a short meeting in the morning. But when my brother knocks at her door exactly at 3.00 p.m., she does not open.

So my brother leaves, to drive seven, eight hours home. I still stay and meet her in the evening to say at least Good Bye. 'Where have you been at three p.m.?' I ask.

'I was not there, but I have waited for you.'

'When you were not there, where have you been?' I ask again.

'I don't know', says my Old Mother. I can't do anything else but to console her: 'Old age is not that easy.'

'That's right', sobs Old Mother.



The old trailer failed the technical inspection.
---
Love is an arduous task! I donate time, energy, attention, nerves and everything for these old people, our roots.

Therefore my life feels like an old tree growing my own roots into the earth deeper and deeper. On our last week end visit to Mima's father we stopped in Nuremberg for a visit of my daughter. The fine young lady has cooked food for her friend, her mother, for Mima, me and her sister. On this occasion I gave birthday money to my daughter. She is hopefully getting better and better after her operation. With her mother she has visited a

Sufi Healer in Turkey

. I knew this man from a trip to Istanbul with her mother and our daughter on Christmas 1983.

The voyage to my mother left me in a depressive mood. The beautiful changing colours of the tree looked so grey in the autumn fog. Sleep and the laughter of my woman at home helped to recover.



My brother drives now Mima's old VW-Transporter
'Blue Whale'
---