Namasté and cherished writers!

In deep accordance I say my heartful 'Good Bye' to Swami-G and her sophisticated spiritual world and e-group. Enough advertising for her work is enough. Thankfully I got her lesson, to give up the fight with her world far above my head. More I feel ready to give up the fight with everyone else, who is engaged in 'spiritual biz'. So as entertainer in our free group gathering you all are appreciated - without my sarcastic comment anymore. My Munich reality at home is different from our e-mail entertainment: My beloved woman Mimamai and I are fully occupied to keep our heads above the flood in the stream of life.

Thankfully I renounce from my long years ''fight for my byte''. For my woman and me it's enough to work hard. This is the last week of work before my woman and I start together in three weeks holy days. I don't have any advice for myself, I can't give any device for anyone else. Times of provocations are fading away, because I have left my joys of quarreling. Whatever comes next, I try to wait in a peaceful and relaxed mood and follow the flood. As long existence keeps me breathing, what is needed more?

n0by

p.s.: Anand Mayi please click on your name to reach your lost pictures on my web-site.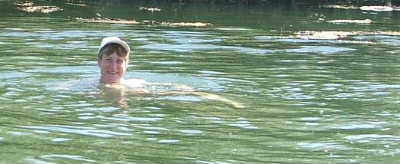 Mima keeps her head above the flood in the stream of life.