Namasté SwamiG!

With this web work I thank SwamiG in L.A. You gave me a very valuable advice. I have tried your advice all week end long. And I have to admit: Your advice works for me!
Thanks SwamiG


On Friday my Mimamai drives with me 320 Kilometres in her 'Sea Cow' via the Austrian town Bregenz to my Old Mother in Bath Dryhome. The old lady suffers from some still unknown health problems. That's the reason, she accepts phone calls again. And so we decided to help, if we can.

The advice of SwamiG is valuable. So I didn't care at all for the lies of her 97 years old friend, who tries in every way to disturb the relationship of our Old Mother with her two sons, my brother Ulrich and me.

Watching my breath going in and out was a much better exercise then this useless quarrels with the 97 years old woman, who is not able to understand anything else but herself. Am I different? Are we different?
On our way home on Sunday we have visited a Castle called 'Valley of Flowers', where now 20 people try to live together in a commune. They bought all these two, three hundred years old houses, a Castle, a Chapel and many other buildings for nearly two Million Euros.
Now these courageous people renovate this rich possession. One of Mimas friend has shown us all these wonderful rooms, the garden, the lake.
At the beer garden an old guy told me about his machin. The old motor bike is a Motor Guzzi from May 1948. So the bike is only three months younger than I am. My first bike 1966 was a similar machin, so we had fun, to share our experiences.

Muthu: congratulations from my heart for your marriage!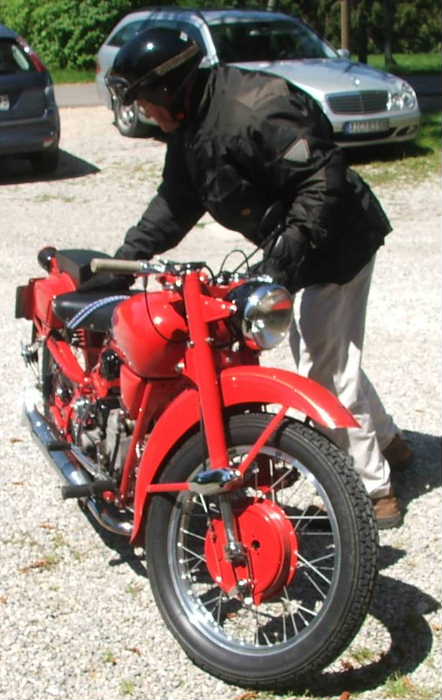 Moto Guzzi build May 1948