There is a sad, dark song in my ears. Leonard Cohen murmurs all day long inside: 'It's father day's. And everybody's wounded...'

On this rainy, grey, cold 'Fathers Day' Mima's Seacow brings me to the ninth visit to my Old Mom, since she moved to South Germany October 2006.

The injustice of life is not easy to stand. Nearly since 28 years I care for my daughter as much as I can. Now she has passed her last examination of four years hard studies, and we are not sure, if her body carries on. She cries at the phone: 'I wonna live! Now all chances are open...'

Nothing can be done. All advices sound so hollow, life is the hardest advice. Everybody has to follow with tears inside, and worse than bogus: most hold up a smiling mask on the outside. My face wears this mask too.

In my most depressive mood I arrive in Bath Dryhome, drive Mima's Sea Cow backwards without care and damage the bike carrier and the back door.

My Old Mom opens her room. We go out of the clinic, where she lives, and drink coffee. When we go back to her place, Old Mom says: 'Where do I have to go?' Astonished I look at her. Her answer claims with self confidence: ' I was never here before!'

Without comment my gesture points into the right direction. I'm not sure, if my Old Mom plays tricks on me. I ask her: 'And your old friend has taken you again to the lawyer?'


'Ah,' she says, 'don't let's talk about this!'

Later I remind her on the fact, that she has signed to this lawyer, that my brother and I don't have to visit her anymore, don't have to write to her and don't have to call her.

Old Mom seems to be surprised: 'But you are my sons! Don't take this serious.'

When we sit in her room and wait for my brother, Old Mom walks over to the neighbour room, where her 97years old friend from WW2 lives.

Immediately the high aged woman shouts: 'They are forbidden in this house! The lawyer has forbidden that they come here! They have no interest at all for you! They only want your money! Don't go in a car with them!'

My Mom returns trembling and admits: 'I have fear, so much fear.' She is mixed up, and holds her forehead in her hands in deep despair.

I ask: 'Are the flowers on your table from Dieter?'

'No', she tries to remember herself, 'no, I don't know, where these flowers are from, but they are nice, aren't they?'

In many talks with juristic experts, I try to clear the situation. I sign the same certificate (durable power of attorney for health care / Vorsorgevollmacht) for my daughter, that my mother has signed 04-02 this year for my brother and me. And two days later her old friend made her cancel this paper again. And one month later her old friend made her sign by an other lawyer this strange paper, that my brother and I should be forbidden to visit her!

The friendly notary, who certifies my durable power of attorney for health care for my daughter, calls up the judge. The judge can't do anything. My brother and I talk with the owner of the clinic, where her old friend pressures Old Mom in such an incredible way. The owner of the clinic promises to warn Mom's old friend, not to damage the peace and reputation of his clinic.

We talk to the doctor, where my Old Mom was the last time a half year ago. So the doctor can't say anything about our Old Mom. The doctor made a plan for Mother's health, but Mom didn't show up again. Because the doctor doesn't know anything about my Old Mom, the doctor can't help the judge. So the judge can't help Old Mom and her sons.. Nobody can help.. My Old Mom is mixed up completely, always in fear, doesn't recognize sometimes, where she lives, would like to trust her sons, but her old friend doesn't allow.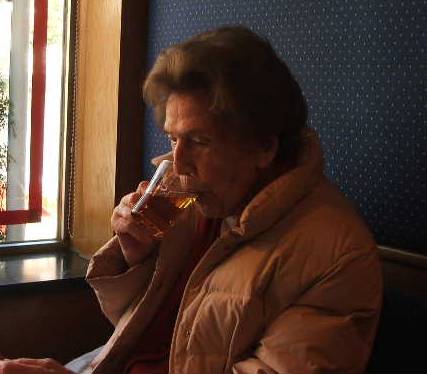 Mom's 97 years old friend in relaxed mood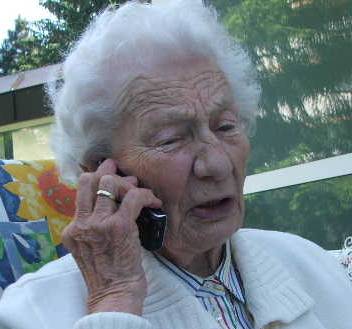 'I have fear, so much fear.'