'My, my, my...' who is interested in anything else than his own affairs? Here comes again one of these egoistical stories to steal time, energy and attention of my beloved reader. But first I steal my own time and energy, because my first reader I am - maybe my one and only reader. Who cares, hihi?

Finally Mimamai's VW Transporter, our Sea Cow, is repaired. I can't stay Munich not any longer: the crowded city, the energy of e-mails and quarrels in- and outside. Lake 'Kochel', the first lake at the feet of the mountains, gives me a rest.

An urge is coming up, to apology for all these awful attacks against decent people, who share via web services for fun.

These poor people had no fun to read my ranting. These poor people suffered badly from my nasty mind games. Most decent friends have responded under the eternal law of cause and effect: Yes, the cause existence makes clear, 'I' always have been. The effect is easy to calculate: ban from most modest moderators like Satrakshita, Sarloji, Surrendra, Chandroji, from Michael, the Western Sat Guru, from Bob, Meditation Society of America, from Jeffeji, the Enlighened Entertainer, from Gene Poole, the logical gentle man, from Caiti, ... Who ever else had to suffer from my criminal, cruel mind? The cause comes clear with bad effects on me.

Please you lovely people, I ask to forgive what ever, I have written, what ever I write right now, what ever I'll write. But first I forgive myself: Non, je ne regrette rien.

Pictures from my last weeks flush up in my inner eye. My movie inside plays tricks on my mind. After this stressful Italy voyage with my lovely Mimamai we slowly, slowly move into peace again. When my feelings don't flow soft and tender with my woman, my days are lost, I am lost.

We admire together a spring feast in Munich. Young females try their glorious attraction - and vice versa. Never the experts have collected weather data with such a sunny, warm April. In this heated up atmosphere young sexy beauties are not miserly to show their playful offers.

My memories go back to all these love fights with women, I have loved, and I still love. Like all my women Mimamai too depends a bit on my caring desire to unfold her mystery. Otherwise Mimamai switches into nagging disaster, I hardly can stand.

For hours we walk through the warm evening, enjoy some little merry go round together on the Munich spring feast. We admire wonderful painted trucks with hundreds lights plus the feast fireworks.

I invite my Mimamai in the 'Big Wheel' (Riesenrad), like we have enjoyed 10 years ago several times, when our sex energy still was flowing. This slowly has changed.

'No,' Mima escapes, 'no, you don't make love anymore, so I don't follow you to these threatening heights!'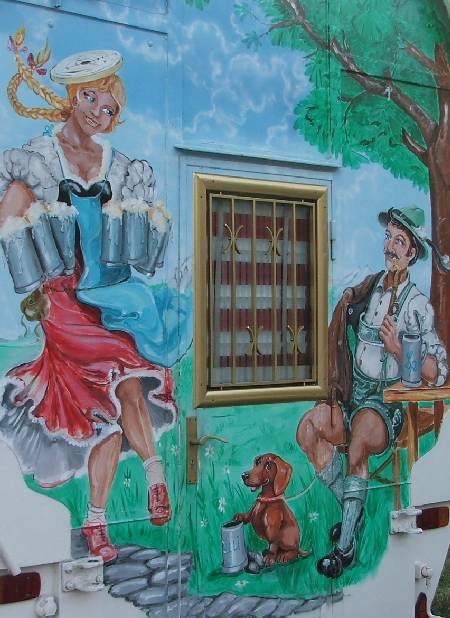 We admire together a spring feast in Munich.