Grey ice waters melt from the glaciers. On my way back from the height I have a short bath in this ice cold flood. I protect my skin with sun cream two times, but the sun and the arduous effort are hard to stay without pain. My feet are tired, all the body is tired - and most dangerous is a sun stroke for my head. Late in the afternoon this headache begins.

Around one hour, before I reach the car, I fall asleep in the shadow of some trees. Then finally I am 'at home' in the Seacow, the simple motor home. Half hour rest helps, before I cook noodle and peppermint tea.

Eating my simple meal heavy rain starts. Immediately the temperature falls five, six degrees. In the evening it is 10 degrees Celsius outside, at night only six degrees. I stay one more night.

At 4.00 a.m. my night is over. Slowly I start in a new day, heat up the gas oven. In my head the blood still hammers, but the pain is gone. From the windows I watch cows with their bells around the neck. They don't move, so their bells are silent. The height, where I marched 12 hours ago are decorated with snow.

Again at 6.00 a.m. when the first sun rays kiss the trees above the parking place, I drive back into the valley to the little village Neustift. My body is exhausted, 'burned out'. Slowly, very slowly I move a few steps here, sit in the beautiful Neustift church for a while, buy some food and relax.

In this mood most people look happy. People in Tyrol are friendly. Tourists from all countries admire this beautiful mountain region. The street through Stubai Valley ends in 'Mutterbergalm' (1721, 'Mother Mountain Alpe'). From there cable trains bring summer ski sportsmen up on the Glaciers. This mechanical entertainment for thousands is not my taste.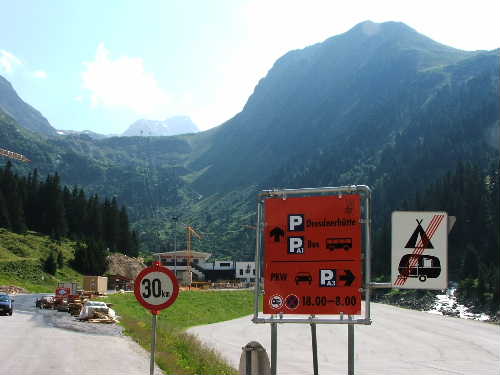 This mechanical entertainment for thousands is not my taste.