In German history books are burned. Powerful people ban continuously unwanted voices in chat rooms, e-groups and in commercial chats like from SPIEGEL or n-tv.

Under the flag ''freedom of speech'' people have to accept, what they want to avoid! That's hard, to hard for most.

In ''freedom of speech'' I have to accept others like myself: isn't this the secret of life, at least one secret?

There is my woman by my side; The female energy, my Mimamai, cares for my heart and my health. I hug her tenderly, I watch her breath, when she is sleeping, I press myself under her arm, feel her soft skin and warm body, I watch her little feet moving, her curves, her feminine approach to me and everything, and I feel at home. My woman is good for me. But something strange happens: I escape two, three days in these summer weeks from her energy. Alone again a precious oasis of creativity flowers for fantasy!

Not only my friend Veet Thomas is in trouble, almost everybody is. The world is in trouble, nature, climate. But most people pretend to be happy, even when they stink from misery! But better don't tell what smell is in the air. This starts a hard healing process to please people!

It's a rainy evening beside this murmuring mountain creek in Navis, 1350 Meters above sea. In Navis I unfolded and healed my broken wings as Alp shepherd the years 1972 and 1976.

Sexual desires made me marry my first wife 1971, who was by my side on the alp summer 1972. That was healing, but no career for a high skilled job!

When a woman left me with another man, I couldn't stand my pain being lost in the world. Veet Thomas is used to stand alone in the world the last 15 years, but without money, without job your life is even in an industrial rich country in danger. Broke and left all alone starts a hard healing process to please people!

Nobody is an island, but many people isolate themselves. I isolate myself in an island, in a VW-Transporter. This simple motor home is like a snail house. In this snail house fantasy flowers. Existence entertains myself. It's enough, I work out with joy body and stories!

Now my second night starts in Navis beside the mountain creek. This little village in the valley Navis is my second home. 30 years ago I have worked on an Alp Hut at 1883 Meters above sea as shepherd. Today I climb again up over the clouds to this Alp.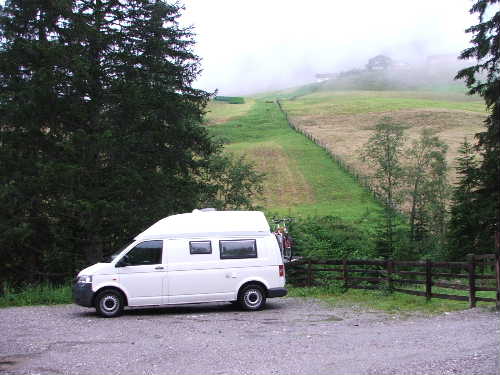 Now my second night starts in Navis
beside the mountain creek.