12.00 a.m. a soup with bread refreshes my body in Thalmaessing, already 40 Kilometers away from Nuremberg. From Thalmaessing I drive little roads 12 Kilometres to Greding. Don't know how far I will make it.

Tired in Greding I need to take a short sleep on a park bench. Next 9 Kilometres to Kinding in the most beautiful ''Old Mill Valley'' beside the river hinders a hard headwind to drive. Totally exhausted the next short sleep rest is necessary in Ibling, an old village on the Left Bank of the ''Old Mill Valley River''.

Finally after 9 Kilometres more to Kinding I rest with an ice coffee. From Kinding the way directs 12 Kilometres in windless valley to ''Biberg''. From there the first signs show the direction to Ingolstadt - only 15 Kilometres left.

Finally after 13 hours travel tour I reach the train station in Ingolstadt. The train to Munich just waits on the rails. I carry my bike in the train, sit down on my hurting ass, pay 16,90 Euro for a ticket and arrive in Munich 7.24 p.m. The last 7 Kilometres from Munich train station home I ''rush'' in half hour only. At 8.00 p.m. at home Mima welcomes me with fresh food - asparagus again.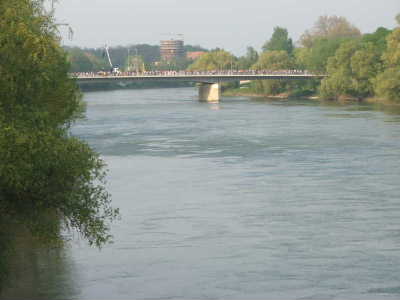 crossing Donau in Ingolstadt