Mima loves Babies - like I admire the joy and freshness of little children. These cute creatures make us smile many times! Mima works with these Babies and their mothers in a warm pool. And she qualifies herself with each lesson better.

From this her intuitive, instinctive loving understanding she arranges her and my life - and thankfully my terrific testosterone poisoned systems relaxes - more: surrenders - to her guidance!

Many times my malicious verbal attacks shoot versus Mima's patience. Mima continues her smile, when she gets the weird wilderness of my ranting. My best Munich friend Kabir mocks for these reasons about Mima as my ''commodity slave'', but Kabir's relationship was finished 2005 after two years only.

Mima cares for me now for 10 years, and hopefully I care for her too.


Mimamai is felt like the light tower in my life. Similar memories are connected with Bhagwan-Osho.

When Mimamai came to me, or better when I came to her, 10 years ago, Mimamai drove an old, an ancient Ford Transit, not even with Diesel Engine. This car was so old, that she did not dare to cross Munich City, because the engine cooling water threatened to boil.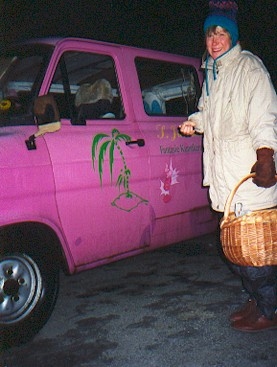 10 years ago, Mimamai drove an old,
an ancient Ford Transit....