But the old ears of Mom can't hear her. And after more than 400 Kilometres drive we are tired. And when Mima wants her food, it's better to get her something!

So we choose two delicious plates and a salad. With a bottle of beer Old Mom changes her mood completely. And with sweets and coffee after the meal she praises the place as ''paradise''. The girls behind the counter start to giggle.

In the afternoon we arrive in Bad Laer. My Mom is the only guest in the hotel. Meanwhile the owner has installed a telephone in her room with huge numbers to dial.

But Old Mom is unhappy again: ''No,, no'', she complains, ''here I don't want to stay any longer! I don't want to live all alone on my own, that I don't want anymore!''

''Ok, ok,'' we calm down her emotions, ''first unpack your suitcase, and then we'll have dinner. And in two, three weeks we or my brother Ulrich can drive you back to Bad Duerrheim.''

We leave Bad Laer very early in the morning before coffee. Mima doesn't want to drive in the dark. So I wake her up at 6.00 a.m., but in reality it is 5.00 a.m.

For hours I drive in the cold winter morning. Mima wonders, how long these dark winter mornings last. Finally, a quarter past seven a beautiful sun rise brings colours back.

400 Kilometres behind Bad Laer we have lunch with Mima's father, his friend, brother and sister in Bamberg. One hour drive more we meet my lovely little daughter lady and her friend in Nuremberg. Sunday at 6.00 p.m. we have finally finished our big tour around Germany. Nearly 2000 Kilometres again and time for another sauna bath!

On next cold Monday Morning I call my Old Mom. With her most miserable voice she complains: ''Erhard, I'm all alone here.''

Is this my reason to write e-mails in groups?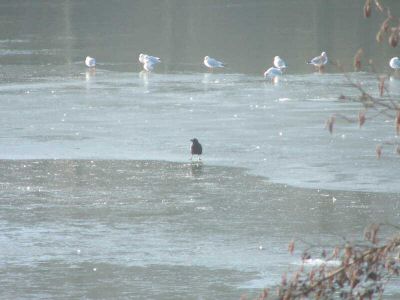 Bamberg: Sunday in the Harbour