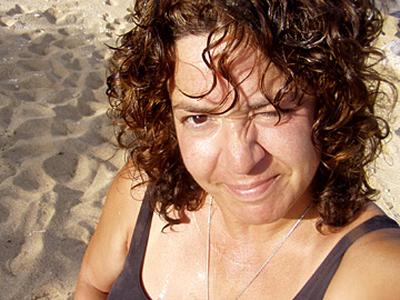 c'est moi (on beach) looking about as happy as could be!
you would not believe the massage therapist who liked me lots - but of course we're just "friends"!

oh - happy daze! went to Hilo - to the university there - and also 65 miles to the MOST southern point in the good ol' US of A. Right into my friend's AA meeting, on about 160 acres of Hawaiian wilderness.

HAD to leave... i was beating my head against the soft sand; "NO! NO!! Please keep me here as a human sacrifice???" To no avail. the gods can be so cold.

SO i take a 6 hour all night flight that was really only 4 hours - am UP all night/day, read a whole novel. But as we were appraoching San Francisco - this *feeling* - i just HAD to delay my trip home and rent car and go see my daughter and sister. So i do - and drive right out into morning rush hour traffic in SF in a brand new silver Trans-Am. FOUGHT my way inland on them 8 lane freeways - lost, no coffee even. It was so much FUN! 'Specially the Trans Am.
Get there - my sister starts yelling at me on the cellphone about how i hadn't signed a money order i had sent her, and how her bank is penalizing her for it. By then i had driven through McDonald's and had HOT coffee, breakfast burrito - driving with one hand - lost - thru horrendous traffic. I say, "STOP SCREAMING AT ME!!! I'm trying to drive, let me call you right back!"
She says "fine" - and proceeds to leave for 3 hours. Nobody to tell me where to go to! I sat by my old high school and cried and made long distance calls to alaska.

It worked out fine. My daughter - Amelia - (who now has pink and black hair) - began doubling over as the day proceeded and we had to take her to the emergency room at Kaiser at 2AM. I tried to sleep on the floor next to the 'CAUTION - Biohazardous Waste' bin, but they kept wakin me up - especially the morphed up guy with Tourette's Syndrome. Amelia needed immediate IV for severe urological tract infection, and pain killers. We were only there for 7 hours.

Amelia on her deathbed at Kaiser. sorry - didn't think to photograph the 'Biohazardous Waste' bin... :-)

The next day I meet my sister's daughters - they are SO nice! One is straight and narrow - works at bank - going to college 2 years early. The OTHER one - the 14 year old - Amaryssa - looks a LOT like *my daughter*! Now she is missing - lured from her home by some guy on the internet. She HAS called - the BRAT!!!!!

Amaryssa (14- missing still) - and Amelia (13) my little revenge on the world. Her hair is no longer pink, but blue, i hear...also - she pierced her OWN lower lip and has little silver SPIKE in it.(akin to stegosaurus).

Last, but not least - Syd's FATHER - was UPI photojournalist and bureau chief of UPI for years, then newspaper photographer for 25 more years. He beat and raped me fresh from catholic schools. til i left home at age 14 - ruined my psyche, my ability to have "normal" relationships, etc etc. And I had to FORGIVE him over and over and over. Now he just an enfeebled little old man on medication, living in Syd's back room (who also left his home at age 14 - go figure).

jack nowadays. now he can die a HAPPY man!