Dear Friends ,
Last week from 10th March to 16 March I had a new real life experience.
I went to Secundarabad to meet Nandagirikishore and Zora.We had a good day with lovely people for few days.And we went to Nanda's village Ibrahim patnam which is about 200kms from Secundarabad.It is a small beautiful village in Karim Nagar District.
We have met and stayed with Swami.Dhyan Magno , a OSHO Sannyasin who basically born in Muslim Family.He is living with his family members , working as a lecturer in college and taking message of Osho to village people sharing meditation techniques and translating OSHO in Telugu, the local language for their understanding with the limited resources available inspite of local opposition from village people.It is a nice experience with people filled with love.Though born in India , I also felt as a foreigner in that land having problems in communication.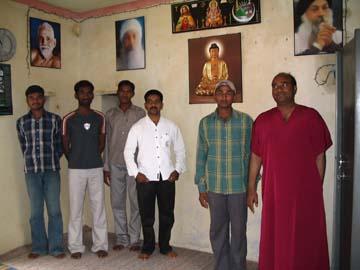 stayed with Swami.Dhyan Magno