Germany - 10-18-2006: The mode company 'Esprit' cancels 200.000 catalogs, because pictures of these leather buttons remind on swastika-models.

The company 'Esprit' returns all catalogs, because the Crown Prosecution Service in Duesseldorf announced, to start preliminary proceedings.

The 'bad buttons' are made in Great Britain and used since decades without any complains in many different companies.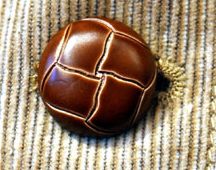 'Bad Buttons' - made in Great Britain