Indian Express, Chandigarh Newsline
Tuesday , November 25, 2003

Starting the Osho Dhara

Express News Service
Patiala, November 24: OSHO Shailender has decided to carry on his elder brother Osho Rajneesh's unfinished tasks. Osho Shailender was here today in connection with the opening of the new Osho centre in town.
Talking to presspersons here and elaborating on the unfinished task, he said he had already started the mission in the shape of Osho Dhara. ''The dhara is a brisk, effervescent and sprightly movement, providing a springboard to Osho disciples to take a quantum leap from the pre-meditation to the beyond enlightenment stage,'' he said. The stage of enlightenment is attained nine samadhi levels of nine-days each, he added. Enlightenment is the culmination and ultimate blossoming through the samadhi and satori stages, said Osho Shailender explaining that samadhi is returning to the source and satori is getting repeated glimpses and flashes of enlightenment. For him, meditation is choiceless awareness or a state of witnessing.
Further elaborating about the mission, he said Osho Dhara, in fact, will pick up the threads Osho had left, but unfortunately let loose due to the ''misinterpretation and blowing out of proportion Osho's real message''. About the centre, Osho Shailender said it is a state-of-the art institution, primarily based on eclectically chosen quintessence of Sikh gurus and the co-existential philosophy of simultaneously living spiritual and corporeal life.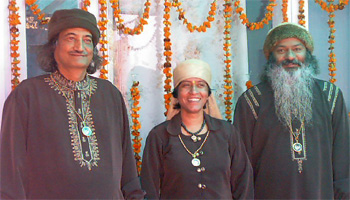 Bhagwan's Blessed Buddha Breed
from their site