Alone in a boat. You have to surrender. To truth, first truth flies around as mocking mosquito. Animals try to suck blood out of sensitive human skin! Ah! Sure, the enemy! Nature! Nature at night, enemy enters. Rat tat tat, the kalashnikov keyboard hammers this truth. '''Make friend with nature, kill mosquitoes !''' Some chemical poisonous product advertises this truth, where is this poison now? Forgotten to buy! Ah: memory! Fading memory: time is the enemy! Time is not by my side, sobsobsob. Yes, sorry, this time eyes hide in an handkerchief.

Finally a real friend embrasses the exhausted body and calms softly the restless mind under the shimmering stars: sleep!

HELP! Enters the enemy in dream land? As cruel crimial killer!? Ahhhh! Astonished eyes open up terrified, ready to defend this precious little, lousy life. Under the stars in a black moonless night. The enemy is not yet real, not here neither there, but fear is real - in imagination! Fear is the enemy! Kalashinkov keyboard, hammer rat tat tat the truth web worldwide: Angst around! Enemy, like an eagle! Black beast birds anguish fantasizes feed terrible torturous like living liver of Greece Hero Tantalos.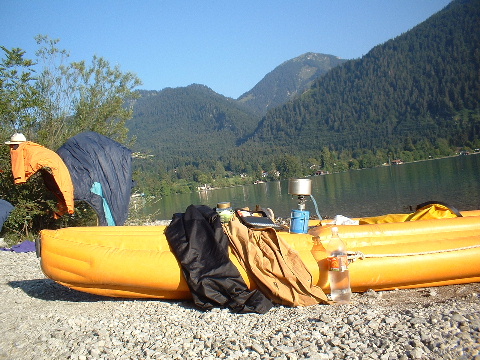 All for the night: sleeping bag, clother, gas oven, cafe, water, PSION palmtop
Dew drops from the velvet shimmering black night fall like tears cold from the sky. Dew drops everywhere, on the sleeping bag, on the boat, the skin. Suddenly dew drops are the real enemy, but the imaginary enemy still is around, ANGST!

There the cry! Like a knife cuts this cry through the silent sleep! What murderous cry! It cries again! What cries?! Cats f*ck each other, f*ck these cats! Cruel cries cut from the deepest dreamless night down from unconscious. Cruel cat cries bring the eternal enemy back to consciousness: ANGST! Angst, black night sky and dew drops! Help! No help from the sky? Stars flimmer silent.

There! A star falls down with shiny, white, bright light dying in a trace of red blood fireworks in the black night sky! Every child enjoys this cosy consolation: watching this miracle, mysteries will fulfill one wish! Keep your wish secret, don't betray to the public: '''Peace! Peace with the enemy!'''

5.17 a.m. First grey morning light brings back life. Born again! One night stand up fight for your byte against all evil enemies inside outside! Ahhh, victory - won once again!

Calm cold body leaves the boat with trembling bones. Slippery dew drop soaked sandals shelter sleep drunken feet from sharp stones at the shore. Slowly heart beats accelerate with some coffee brewed with the gas oven.

Did you, cherished reader, did you get a glimpse of truth about all my serious evil enemies? Will you listen to one more secret? Will you dare to look in the eyes of your inner immense evil enemy? Are you ready to recognize worse than bogus, your one and only offender? Watch out!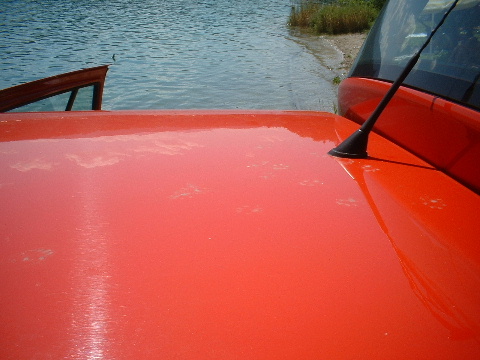 Cat claw traces on the roof of my car! There these beasts enjoyed their cries!
It is boredom! Silly stupid boring bullshit, cherished reader, that is your one and only enemy, you have to face! The deadly sin of a writer! That is your enemy, dear reader, a boring writer! A stupid story stealing your short life's time!

Now - a fresh morning bath in the lake, in the Bavarian Walchensee, has to wash away your Sunday sinners secrets.